What Is Banana Flour?
Oct 6, 2020
Banana flour is a gluten-free, Paleo-friendly flour made by grinding unripened green bananas. This alternative to wheat flour been getting a lot of buzz lately as a way to add more resistant starches into your diet.
So what are resistant starches, exactly? And should you be baking with banana flour? Here's what you need to know.
Find more health and nutrition tips on Openfit! Get started for free today.
Nutritional Benefits of Banana Flour
There are a few potential health benefits to using banana flour in your recipes.
"Resistant starch" might sound like a laundry term, but it's actually the name for starches — in foods, that is! — that resist digestion. These low-glycemic starches aren't absorbed in your upper digestive tract, and research suggests this may help improve insulin sensitivity and increase satiety in healthy adults.
Banana flour provides healthy polyphenols, a group of phytonutrients that may potentially have a beneficial impact on oxidative stress.
Each 4-ounce serving of banana flour — about 1/3 cup — provides 1 gram of fiber. (This may cause bloating for some people, so start with a small serving at first and see how it affects you.)
How to Use Banana Flour
Green banana flour is made from unripened bananas and doesn't taste like the sweet fruit. That means you can add it to beverages, baked goods, and dressings without worrying that everything will taste like bananas.
The easiest way to use banana flour is to add it to a smoothie or protein shake. Start with a small quantity, such as a teaspoon, and the texture won't affect your beverage much.
Use banana flour to thicken salad dressings. One tablespoon is plenty to thicken one cup of salad dressing. It'll thicken even more if you leave it in the fridge, so if you don't plan on using the full batch in one sitting, use less banana flour so you don't end up with a dressing you can't even pour. Store leftovers in the fridge for up to a week.
Banana flour can bump up the fiber content in faux "baked" goods such as raw brownies or edible cookie dough. It may also aid in the glycemic response to sugary ingredients like Medjool dates, maple syrup, or honey.
You can also substitute some banana flour for white flour in baking recipes. Keep in mind, however, that green bananas lose some of their resistant starch when cooked — so if you're getting on the banana flour bandwagon to reap the benefits of resistant starch, you may want to stick with no-bake recipes.
How to Make Banana Flour at Home
Banana flour is readily available at stores like Amazon and Thrive Market. But because it's a specialty item, you're not going to pay $2 for a five-pound bag like you would with all-purpose wheat flour — banana flour can cost $10 or more per pound.
You can save some money by making DIY banana flour at home. It's a multi-step labor of love, but here's how to transform three pounds of green bananas into one pound of banana flour:
Buy (very) green bananas or green plantains.
Separate the bananas and cut the very tops off. Peel the skins.
Dice bananas into about half-inch cubes. Spread them out in a single layer onto cookie sheets.
Place in a 200°F oven for two to three hours, or until banana cubes are dried out. Remove from oven and cool.
Grind banana cubes in a high-speed blender or food processor until it resembles a fine flour. If the bananas are sticky and not grinding, place them back in the oven to dry out for longer.
Sift the banana flour, and store in dry, airtight containers. Store in a cool, dry place as you would other flours. If you don't use it often, stash in the freezer to extend its shelf life.
Recipes That Use Banana Flour
Want to start baking with banana flour? Try one of these yummy recipes.
Banana Flour Chocolate Chip Cookies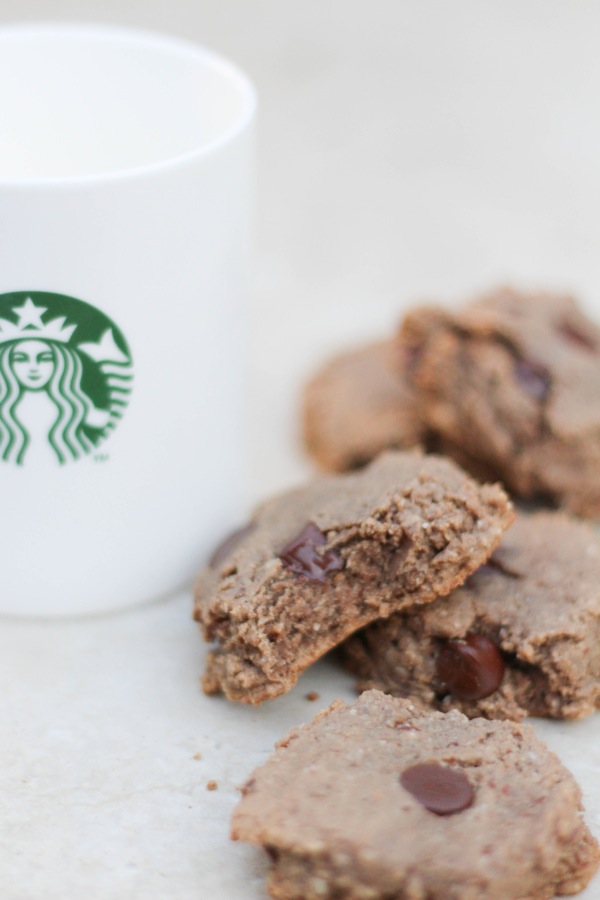 These yummy, grain-free cookies are made with banana flour and almond meal. Get the recipe at The Fitnessista.
Green Banana Flour Brownie Bites
Satisfy your chocolate cravings with these vegan, no-bake sweets. Get the recipe at E.A. Stewart.