10 Vegan Meal Prep Recipes to Try This Week
Jul 28, 2021
Making breakfast, lunch, and dinner every day can get exhausting. Unless you're a professional chef, nobody wants to feel like cooking is a full-time job. That's why we're big fans of meal prepping healthy meals that last all week. These vegan meal prep recipes are not only nutritious, delicious, and healthy, they're also easy to make in large batches! Everybody wins!
Find more healthy recipe ideas on Openfit! Get started for free today.
Vegan Breakfast Meal Prep
Plant-based options to start your day.
1. The Easiest Granola Recipe
With only six pantry ingredients like rolled oats, maple syrup, and almond flour, this simple vegan meal prep recipe is salty, sweet, and perfectly golden brown. It's also free of both gluten and refined sugar! (Feel free to reduce the amount of maple syrup to suit your palate.)
Get the recipe at Eating by Elaine.
2. Vegan Tofu Scramble
With 22 grams of protein, 5 grams of fiber, and only 2 grams of sugar, this vegan tofu scramble with cauliflower rice and spinach is not only delicious, it's nutritious, satiating, and flavorful! Make a big batch and eat it all week. Wrap it into a burrito, pile it on avocado sweet potato toast, or eat it straight-up!
Get the recipe at Openfit.
3. Peanut Butter Banana Protein Shake
We took the already delicious LADDER Plant Based Protein Shake to the next level by combining it with unsweetened rice milk, banana, and all-natural peanut butter. This makes it a chocolate peanut butter banana protein shake that's perfect for a healthy and filling breakfast!
Get the recipe at Openfit.
Vegan Lunch Meal Prep
Three easy vegan lunches, from bowls to salads.
4. Vegan Quinoa Nourish Bowl
This vegan nourish bowl includes black beans, raw and roasted vegetables, hearty quinoa, and a tangy sauce made with basil, kale, pistachios, and more. Make a big batch, and enjoy these as easy meals all week long! (We recommend scaling back the avocado oil to 1 teaspoon.)
Get the recipe at Stacey Homemaker.
5. Raw Pad Thai Salad
This beautiful, colorful salad features zucchini noodles, carrots, bell peppers, and a creamy peanut butter Pad Thai sauce. Plus, it's vegan, gluten free, paleo, and Whole30-compliant, and under 100 calories!
Get the recipe at Eat the Gains.
6. Southwestern Salad
Packed with tomatoes, corn, beans, rice, onions, bell peppers, and some greens, there's no shortage of flavor in this salad. It can also be total fridge dump on meal prep day. Substitute the traditional southwestern ingredients you might not have on hand with whatever veggies are in your produce drawer.
Get the recipe on Openfit.
Vegan Dinner Meal Prep
Vegan dishes ready to be meal-prepped for dinner.
7. Vegan Chili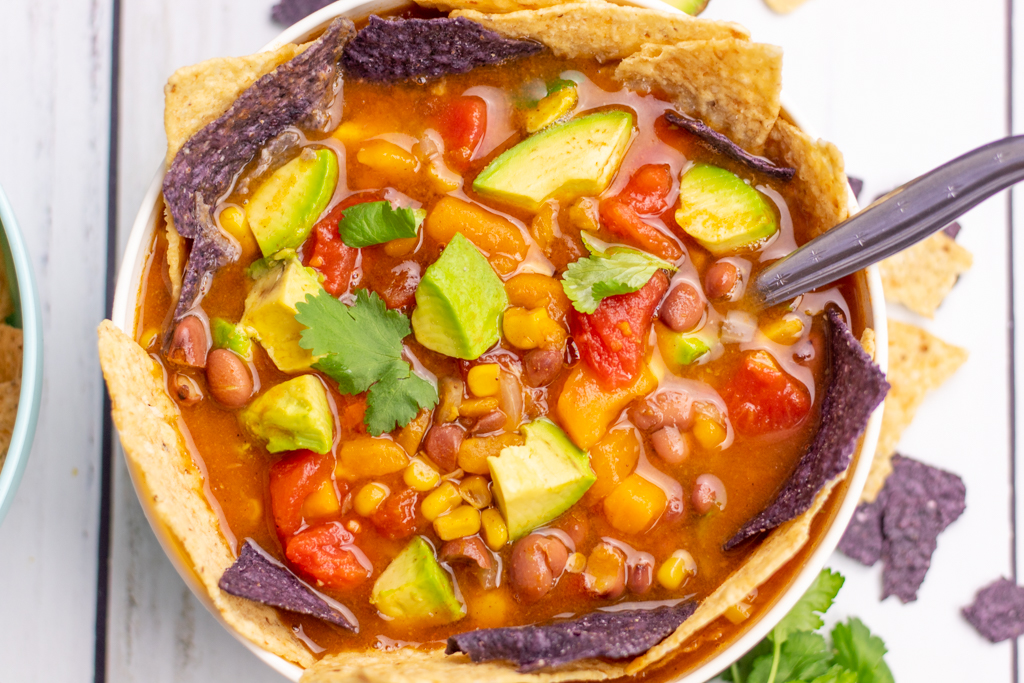 Made with simple, wholesome ingredients like beans, avocado, and sweet potatoes, this vegan chili is free of gluten, dairy, soy, nuts, and eggs and only takes 40 minutes to prep. Even better? This is one of those "a little of this, a little that" recipes, so it's perfect for busy days or new cooks. (Tip: You can add the salt to taste gradually according to your preference.)
Get the recipe at Allergyummy.
8. Vegan Cauliflower Risotto
Packed with 24 grams of protein and 8 grams of fiber, this vegan cauliflower risotto with asparagus, mushrooms, and tofu is ready in just 30 minutes. You'll love how creamy it is and how many servings of veggies you get to cram into a single tasty meal!
Get the recipe at Openfit.
Vegan Snack Meal Prep
For when you need something outside of a meal.
9. LADDER Plant-Based Nutrition Shake
This Nutrition shake is not only vegan and delicious, it also comes packed with a whopping 20 grams of pea protein, 7 grams of fiber, 26 essential vitamins and minerals, and no added sugars! Add it to this thin mint vegan shake recipe for an added blast of yum at snack time.
Get the shake only at Openfit.
10. Open-Faced Greek Veggie Burger
Consider this open-faced veggie burger the cure to your burger (and snack) cravings! With the perfect combo of protein and carbs you need to power through those treacherous hours between meals, this flavorful snack will keep you fueled in just a few bites.
Get the recipe at Openfit.