20 Valentine's Day Recipes You're Going to L-O-V-E

Looking to create the perfect V-Day dinner from start to finish? Need ideas for a Galentine's party? We've got you covered with these yummy Valentine's Day recipes. And while traditional Valentine-themed foods are often high in calories, sugar, or saturated fat, these recipes are delicious and nutritious. Here are 20 of our favorite Valentine's Day appetizer, dinner, and dessert recipes.
For more healthy recipes, sign up for Openfit for free today! 
1. Fruit and Frozen Yogurt Bites
These fruit-filled frozen yogurt bites would make a great snack for a school party or (healthier) sweet treat after a Valentine's Day dinner. Plus they're simple to make and just so dang adorable!
Get the recipe at The Decorated Cookie.
2. Coconut Thai Borscht
This borscht recipe is made with typical Thai flavors like ginger, garlic, coconut, and lime — but with a beet twist. It's healthy, only takes about 30 minutes to make, and looks totally on theme for Valentine's Day dinner!
Get the recipe at The Endless Meal.
3. Vegan Pepperoni Pizza Lollipops
Vegan pizza on a stick? Now that's amore! This recipe makes 20 pizza lollipops — make a batch for a party, or store them in the fridge and enjoy them all week long!
Get the recipe at Vegan Dollhouse.
4. Caprese Salad Bites
For healthy Valentine's Day recipes that look as amazing as they taste, you can't go wrong with mini Caprese salad skewers! This Italian classic includes mozzarella, fresh basil, tomatoes, olive oil, and seasoning, and looks so elegant.
Get the recipe at Appetizer Addiction.
5. Smokey Maple Roasted Chickpeas
These roasted chickpeas are the perfect appetizer to nibble on during pre-dinner drinks. They're vegan and gluten-free, with a crispy outer shell and a salty, smoky, slightly sweet flavor. (If you're trying to cut back on sugar, just skip the maple syrup.)
Get the recipe at Fab Food 4 All.
6. Creamy Roasted Garlic and Beet Pasta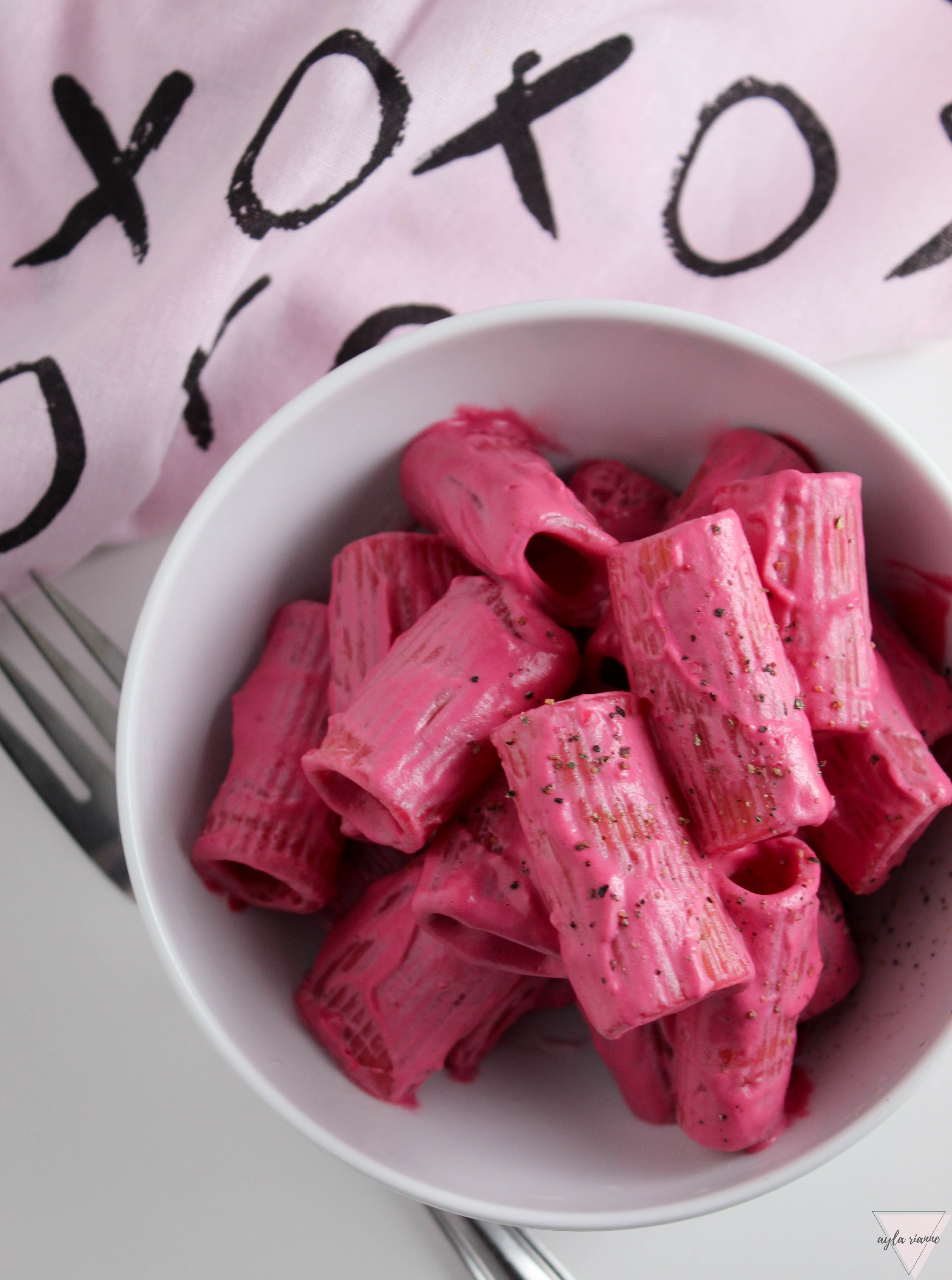 This Valentine's Day dinner recipe is pretty in pink. The creamy and colorful sauce is a delicious blend of roasted beets, garlic, cashews, vegetable broth, and shallots. Yum!
Get the recipe at Ayla Rianne.
7. Beet Berry Smoothie
Start your Valentine's Day on the right foot by whipping up this pretty pink smoothie for breakfast. Made from a refreshing blend of beetroot, cherries, and strawberries, this superfood smoothie recipe provides 28 grams of protein per serving, along with some vitamin C.
Get the recipe at Openfit.
8. Mahi Mahi with Strawberry Sauce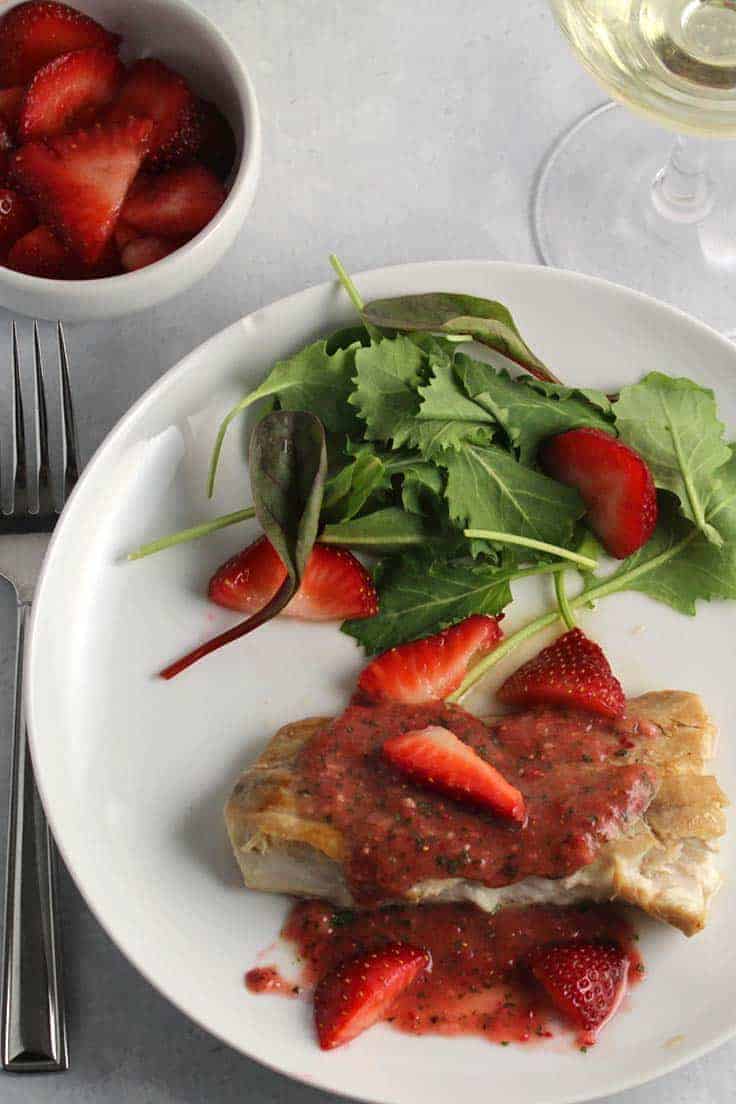 Mahi mahi has 70 calories and 3 grams of protein per 3-ounce serving, making it a great option for a nutritious Valentine's Day dinner. The sweet-and-spicy sauce with heart-shaped strawberries are the perfect on-theme garnish!
Get the recipe at Cooking Chat.
9. Vegan Pink Heart Ravioli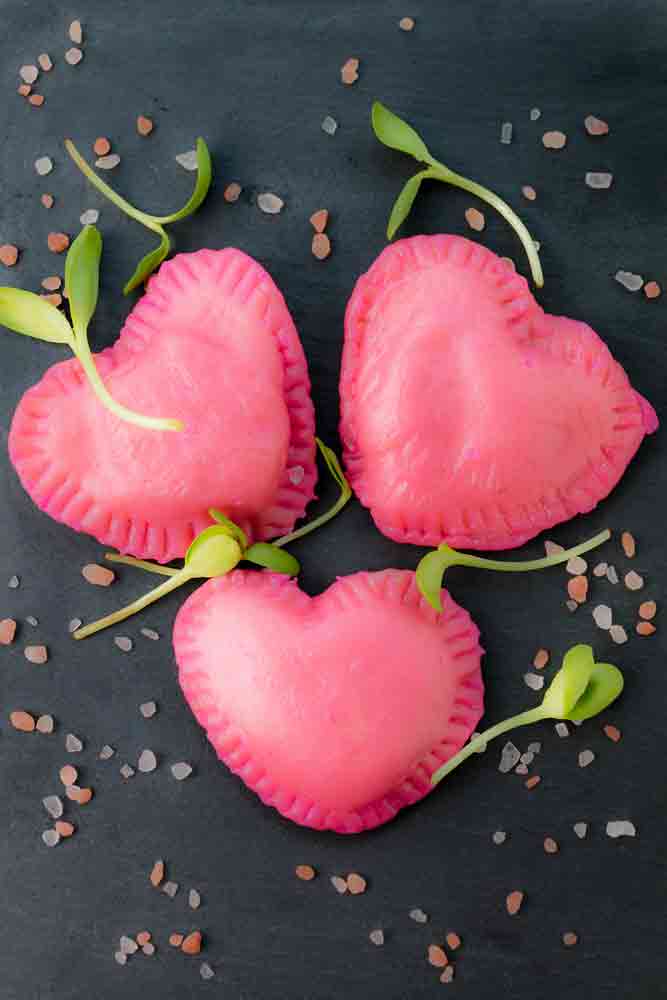 How cute are these heart-shaped ravioli dyed with vegan food coloring? Fill them with mushrooms and almonds for the perfect vegan Galentine's Day main course.
Get the recipe at Vegan Dollhouse.
10. Vegan Beetroot Hummus Risotto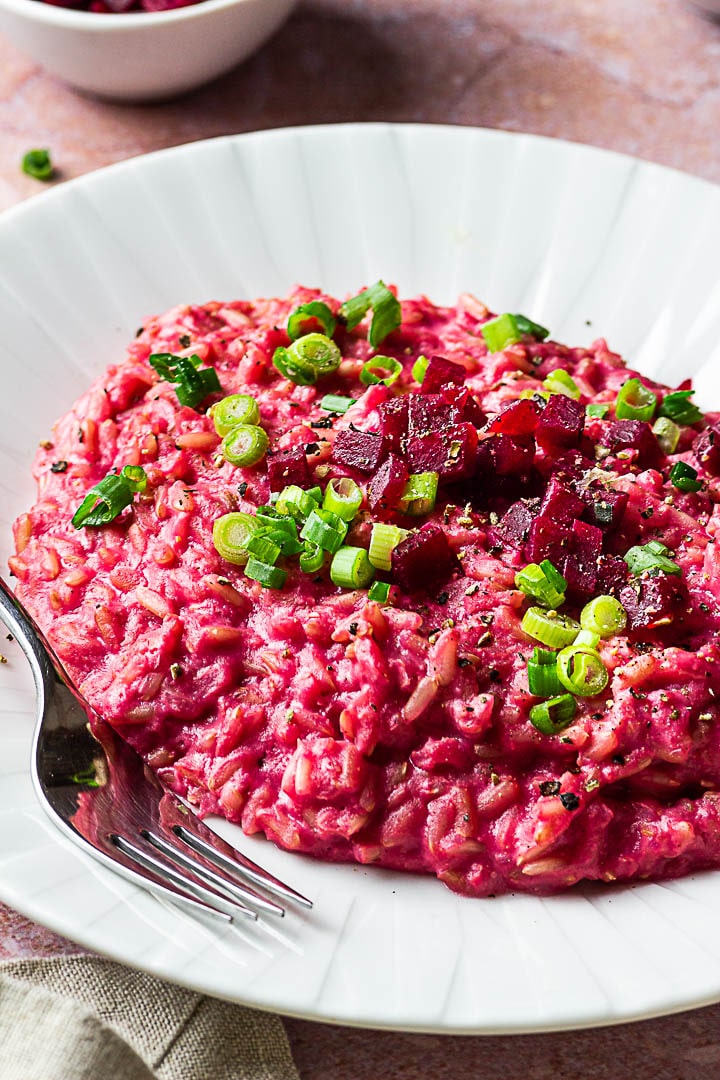 This vegan beetroot hummus risotto is creamy, light, and flavorful. It has 261 calories per serving, with 7 grams of fiber — and, of course, the reddish-pink hue makes it a great side dish for Valentine's Day dinner.
Get the recipe at VeEatCookBake.
11. Garlic Shrimp with Zucchini Noodles
Totally spaced on prepping a V-Day dinner? This quick and easy shrimp-and-zoodles can be on the table in less than 30 minutes — but it's so full of flavor, it tastes like you spent all day cooking it. Even better, it only has 240 calories per serving and provides 32 grams of protein.
Get the recipe at Openfit.
12. Chicken Kabobs with Veggies
Give your trusty meal prep staples a Valentine's-Day-worthy upgrade with this yummy kabob recipe. Load up your skewers with lean chicken and your favorite healthy veggies, add some seasoning, then grill or broil them to perfection.
Get the recipe at Openfit.
13. Balsamic Dijon Beef Tenderloin
This juicy balsamic dijon beef tenderloin with a Meyer lemon gremolata is sure to impress your omnivorous Valentine's Day date.
Get the recipe at Running to the Kitchen.
14. Creamy Garlic Mushroom Pasta
Need a quick and easy Valentine's Day dinner recipe? Made with whole wheat pasta, garlic, mushrooms, olive oil, and half-fat creme fraiche, this Creamy Garlic Mushroom Pasta can be ready in 15 minutes.
Get the recipe at Hungry Healthy Happy.
15. Instant Pot Garlic Parmesan Spaghetti Squash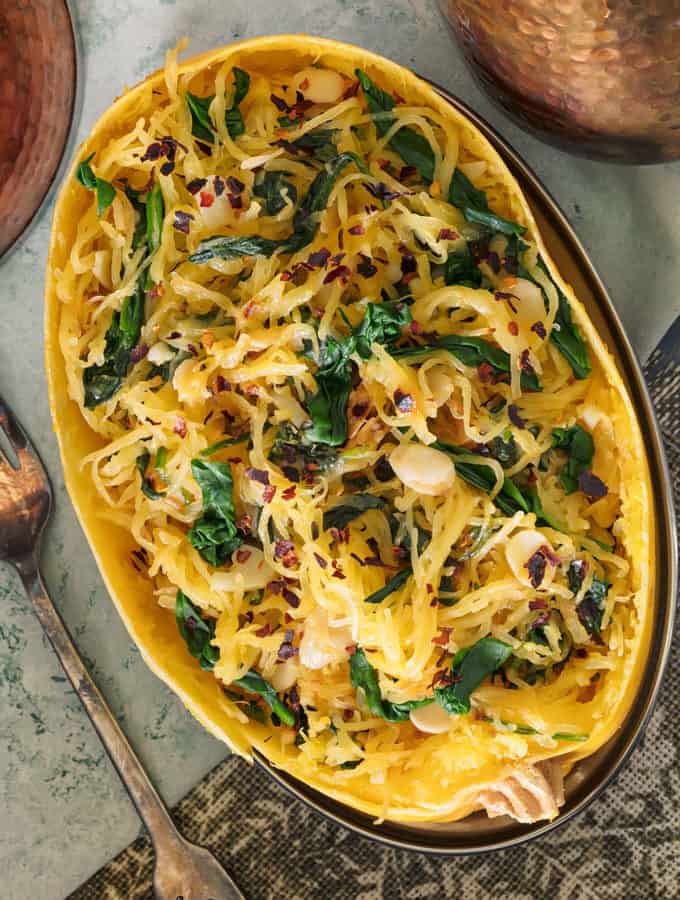 This tasty vegetarian dish has 6 grams of fiber and less than 400 calories. Cook the spaghetti squash in an Instant Pot, add the seasonings and sautéed almonds, and sprinkle with parm for an easy side to your Valentine's Day dinner.
Get the recipe at Two Sleevers.
16. Chocolate Filled Strawberries
Filled with a sweet mix of dates, cocoa powder, and vanilla extract, these strawberries are gluten-free and contain no refined sugar. If you're looking for easy Valentine's Day dessert recipes, it's hard to beat these simple treats.
Get the recipe at A Sweet Alternative.
17. Low Carb Angel Food Cake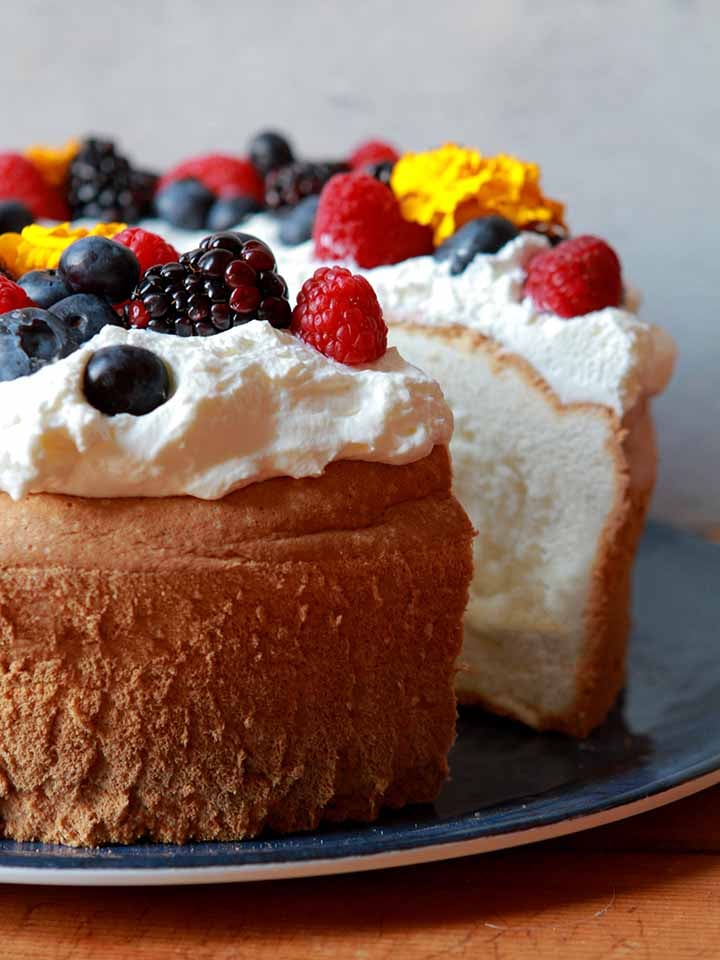 Put your baking skills to the test with this low-carb take on angel food cake. It may not be the easiest Valentine's Day dessert recipe out there, but it's delicious and only contains 58 calories per slice. Skip the heavy whipping cream, and top it with fresh fruit instead.
Get the recipe at Resolution Eats.
18. Valentine's Day Cupid Arrow Pancake Kabobs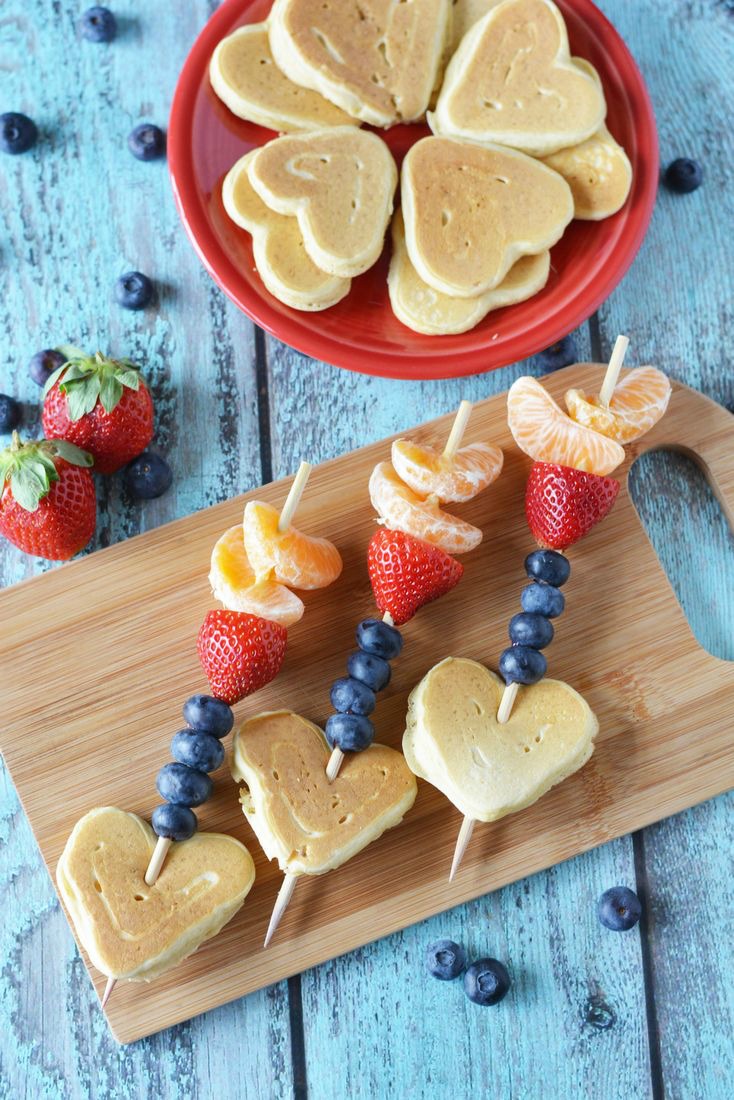 These adorable kabobs — made with fresh fruit and heart-shaped pancakes — are the perfect family-friendly Valentine's Day treat.
Get the recipe at This Ole Mom.
19. Dairy Free & Vegan Double Chocolate Beetroot Cake
Not only are beets a good source of fiber, but they also pair amazingly well with chocolate! This fudgy cake is topped with dairy-free ganache for a vegan Valentine's Day dessert recipe that actually provides some healthy nutrients.
Get the recipe at The Simple Green.
20. Keto Panna Cotta
Pink, heart-shaped, and unbelievably fluffy? This sugar-free version of the Italian dessert contains only 140 calories per serving, and the recipe can be modified to make it vegan or keto-friendly. (The saturated fat content is a bit high — around 10 grams per serving — so consider splitting your serving with someone!)
Get the recipe at Mind Body and Spirit Wellbeing.