20 Valentine's Day Recipes You're Going to L-O-V-E
Feb 8, 2021
Looking to create the perfect V-Day dinner from start to finish? Need ideas for a Galentine's party? We've got you covered with these yummy Valentine's Day recipes. And while traditional Valentine-themed foods are often high in calories, sugar, or saturated fat, these recipes are delicious and nutritious. Here are 20 of our favorite Valentine's Day appetizer, dinner, and dessert recipes.
For more healthy recipes, sign up for Openfit for free today!
1. Fruit and Frozen Yogurt Bites
These fruit-filled frozen yogurt bites would make a great snack for a school party or (healthier) sweet treat after a Valentine's Day dinner. Plus they're simple to make and just so dang adorable!
Get the recipe at The Decorated Cookie.
2. Coconut Thai Borscht
This borscht recipe is made with typical Thai flavors like ginger, garlic, coconut, and lime — but with a beet twist. It's healthy, only takes about 30 minutes to make, and looks totally on theme for Valentine's Day dinner!
Get the recipe at The Endless Meal.
3. Vegan Pepperoni Pizza Lollipops
Vegan pizza on a stick? Now that's amore! This recipe makes 20 pizza lollipops — make a batch for a party, or store them in the fridge and enjoy them all week long!
Get the recipe at Vegan Dollhouse.
4. Caprese Salad Bites
For healthy Valentine's Day recipes that look as amazing as they taste, you can't go wrong with mini Caprese salad skewers! This Italian classic includes mozzarella, fresh basil, tomatoes, olive oil, and seasoning, and looks so elegant.
Get the recipe at Appetizer Addiction.
5. Smokey Maple Roasted Chickpeas
These roasted chickpeas are the perfect appetizer to nibble on during pre-dinner drinks. They're vegan and gluten-free, with a crispy outer shell and a salty, smoky, slightly sweet flavor. (If you're trying to cut back on sugar, just skip the maple syrup.)
Get the recipe at Fab Food 4 All.
6. Creamy Roasted Garlic and Beet Pasta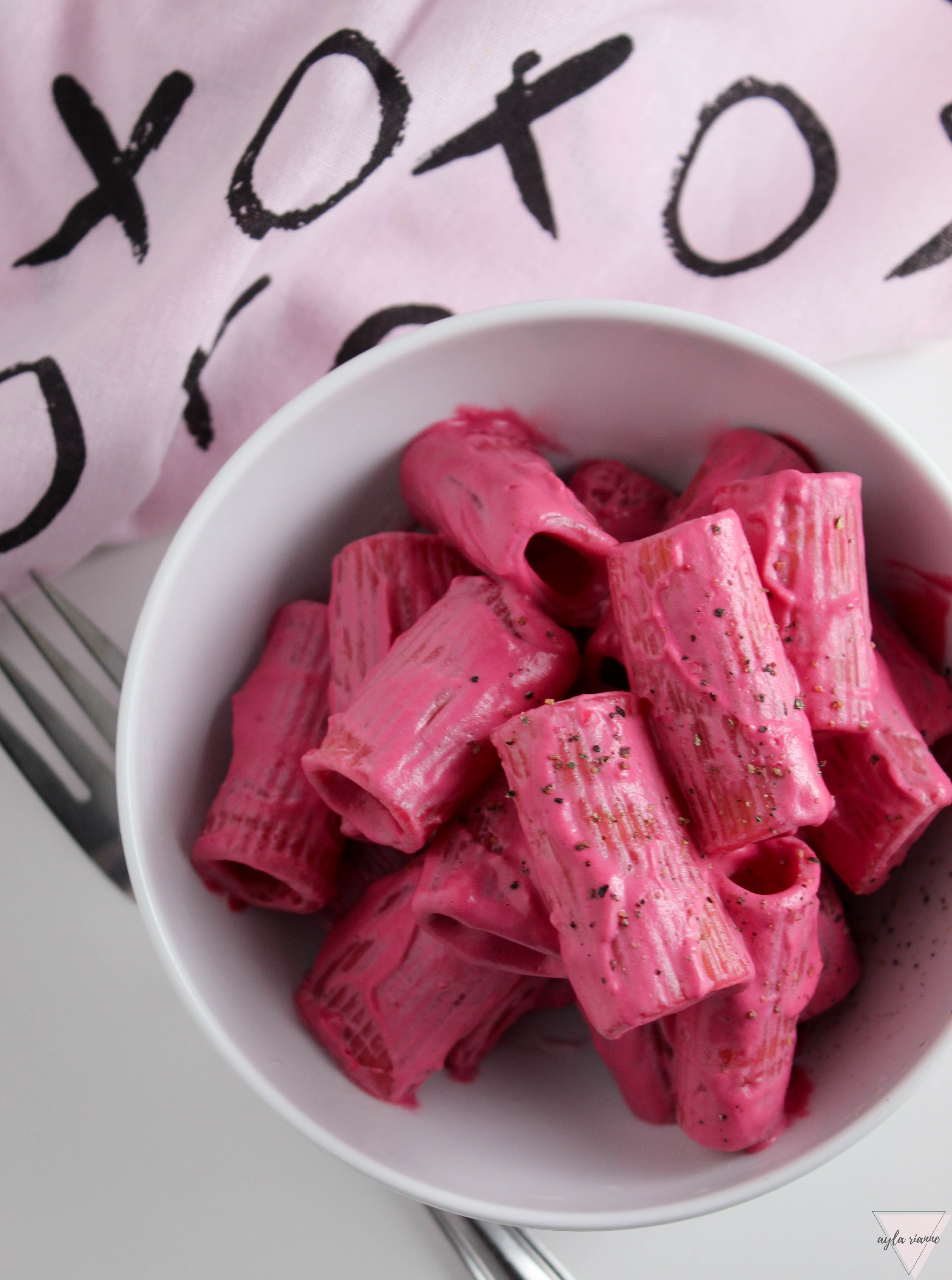 This Valentine's Day dinner recipe is pretty in pink. The creamy and colorful sauce is a delicious blend of roasted beets, garlic, cashews, vegetable broth, and shallots. Yum!
Get the recipe at Ayla Rianne.
7. Beet Berry Smoothie
Start your Valentine's Day on the right foot by whipping up this pretty pink smoothie for breakfast. Made from a refreshing blend of beetroot, cherries, and strawberries, this superfood smoothie recipe provides 28 grams of protein per serving, along with some vitamin C.
Get the recipe at Openfit.
8. Baked Pork Chops
Share a delicious evening meal with your bae with this bae-ked pork chop recipe. Using lean cuts to avoid excess fat, our pork chops contain 236 calories, 8 grams of fat, and 33 grams of protein while only taking 20 minutes to prepare!
Get the recipe on Openfit.
9. Vegan Pink Heart Ravioli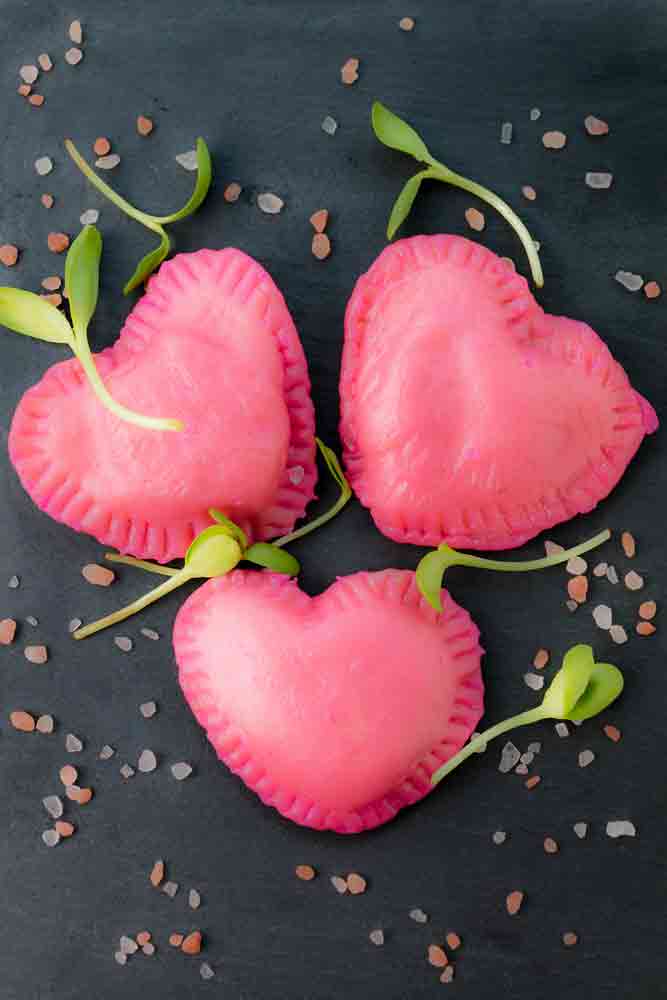 How cute are these heart-shaped ravioli dyed with vegan food coloring? Fill them with mushrooms and almonds for the perfect vegan Galentine's Day main course.
Get the recipe at Vegan Dollhouse.
10. Vegan Beetroot Hummus Risotto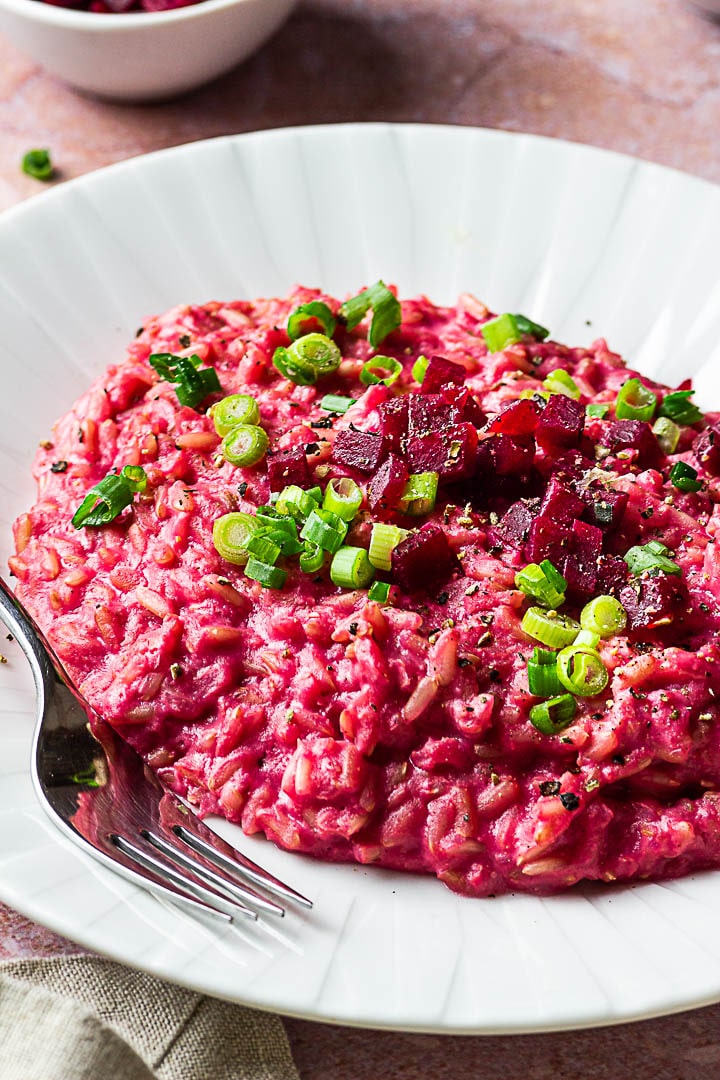 This vegan beetroot hummus risotto is creamy, light, and flavorful. It has 261 calories per serving, with 7 grams of fiber — and, of course, the reddish-pink hue makes it a great side dish for Valentine's Day dinner.
Get the recipe at VeEatCookBake.
11. Garlic Shrimp with Zucchini Noodles
Totally spaced on prepping a V-Day dinner? This quick and easy shrimp-and-zoodles can be on the table in less than 30 minutes — but it's so full of flavor, it tastes like you spent all day cooking it. Even better, it only has 240 calories per serving and provides 32 grams of protein.
Get the recipe at Openfit.
12. Chicken Kabobs with Veggies
Give your trusty meal prep staples a Valentine's-Day-worthy upgrade with this yummy kabob recipe. Load up your skewers with lean chicken and your favorite healthy veggies, add some seasoning, then grill or broil them to perfection.
Get the recipe at Openfit.
13. Balsamic Dijon Beef Tenderloin
This juicy balsamic dijon beef tenderloin with a Meyer lemon gremolata is sure to impress your omnivorous Valentine's Day date.
Get the recipe at Running to the Kitchen.
14. Spinach and Feta Stuffed Chicken
Need a quick and easy Valentine's Day dinner recipe? Made with veggies, lean protein, fragrant herbs, and briny cheese, this stuffed chicken recipe can be served with a side of quinoa or brown rice for a hearty and wholesome meal.
Get the recipe on Openfit.
15. Instant Pot Garlic Parmesan Spaghetti Squash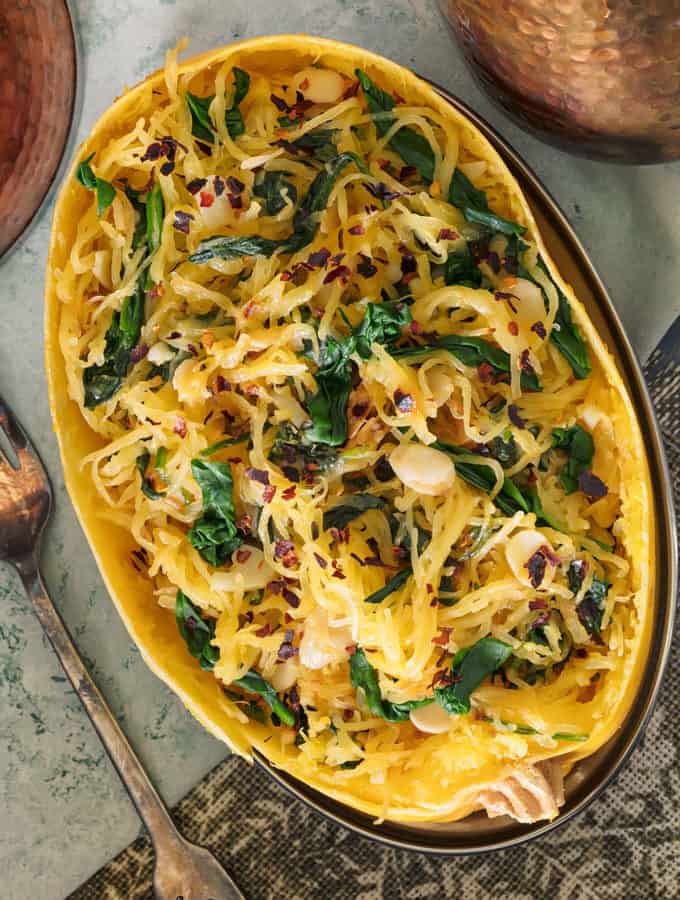 This tasty vegetarian dish has 6 grams of fiber and less than 400 calories. Cook the spaghetti squash in an Instant Pot, add the seasonings and sautéed almonds, and sprinkle with parm for an easy side to your Valentine's Day dinner.
Get the recipe at Two Sleevers.
16. Strawberry Parfait With Balsamic Vinegar
What's a better pairing than you and your significant other? Strawberry and balsamic vinegar! Trust us, the sweetness from the strawberries and honey is perfectly balanced with the tangy flavor of balsamic vinegar. You can whip this up as a delectable afternoon snack or a satisfying dessert.
Get the recipe on Openfit.
17. Low Carb Angel Food Cake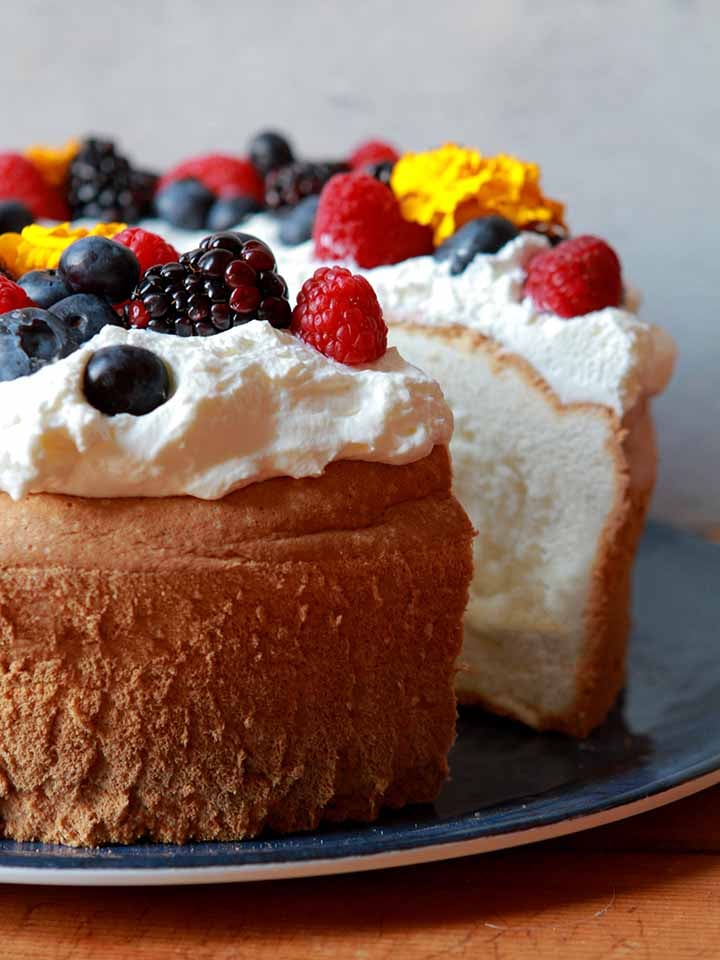 Put your baking skills to the test with this low-carb take on angel food cake. It may not be the easiest Valentine's Day dessert recipe out there, but it's delicious and only contains 58 calories per slice. Skip the heavy whipping cream, and top it with fresh fruit instead.
Get the recipe at Resolution Eats.
18. Valentine's Day Cupid Arrow Pancake Kabobs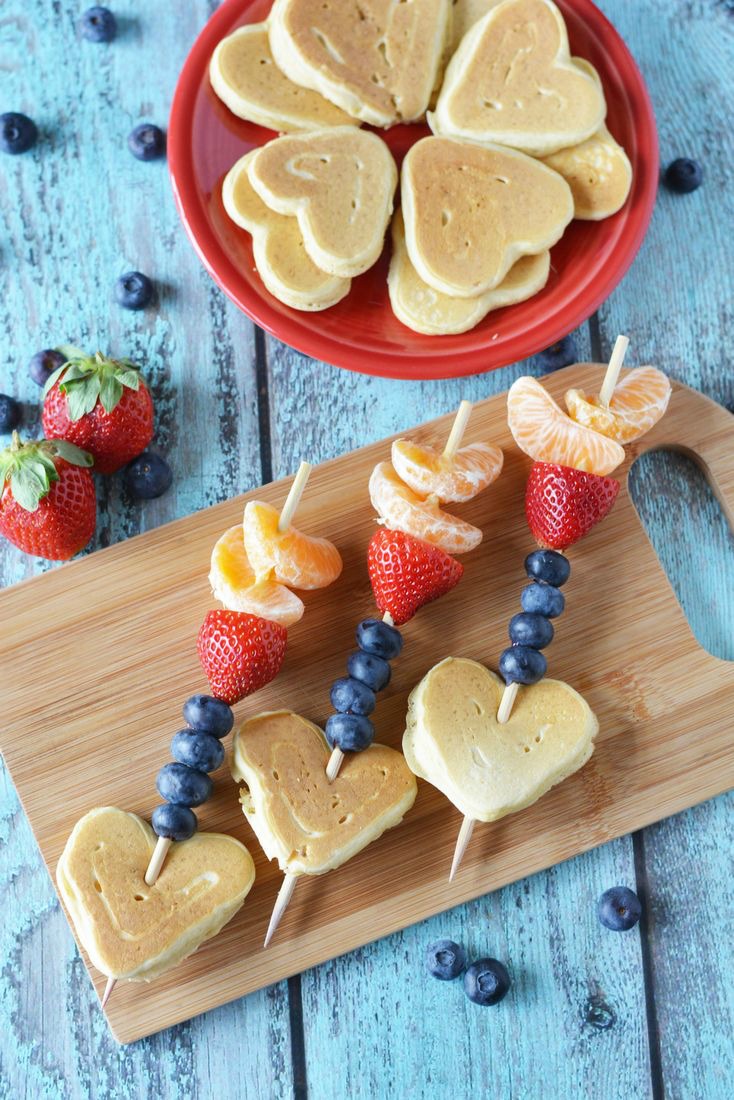 These adorable kabobs — made with fresh fruit and heart-shaped pancakes — are the perfect family-friendly Valentine's Day treat.
Get the recipe at This Ole Mom.
19. Double Chocolate Mug Cake
Who knew that indulging yourself could be so nutritious too? This fudgy, double chocolate mug cake has no added sugar and 22 grams of muscle-building protein so you can treat yourself and that lucky somebody without compromising your health goals.
Get the recipe on Openfit.
20. Chocolate Mocha Protein Ice Cream
Skip the ice cream shop after dinner with this chocolate mocha protein ice cream! Mocha is the perfect complement to the chocolate flavor provided by Openfit Plant-Based Nutrition Shake in this sweet dessert recipe.
Get the recipe on Openfit.