12 Pantry-Friendly Recipes to Use What You Have
Apr 28, 2020
Right now, many of us are getting creative with our meal plans and shopping lists. We're using what we have, relying on pantry staples and leftover recipes, and streamlining ingredient lists to save money and conserve resources.
If you're in need of some inspiration, you're going to love these healthy, pantry-friendly recipes full of leftovers and pantry staples from all your favorite food bloggers.
Find more recipe ideas on Openfit! Get started for free today.
Leftover Rice Recipes
Trying to figure out what to do with the big bag of rice in your pantry? Here are some simple, tasty ideas to get you started.
1.Vegan Kimchi Fried Rice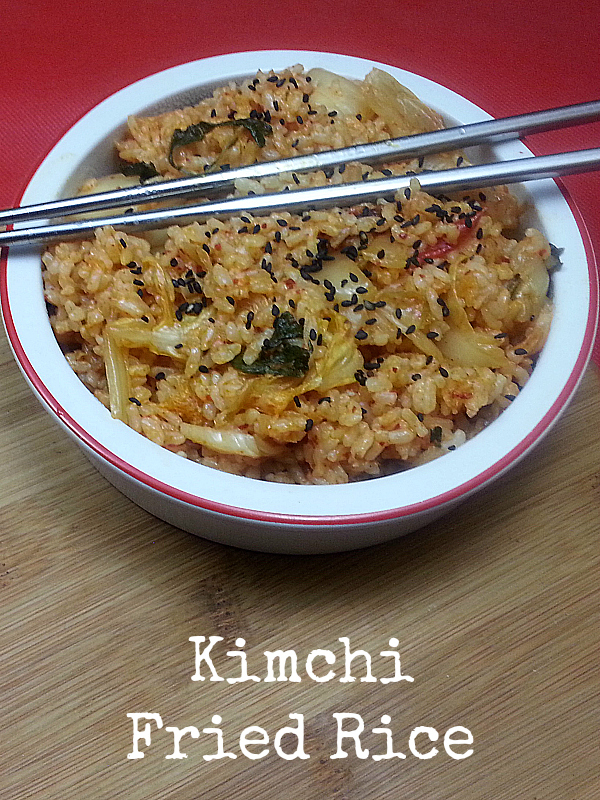 Made with only four ingredients, this kimchi fried rice is great if you've got excess rice lying around. Purchase some kimchi full of healthy veggies like cabbage, seaweed, radish, and carrots on Amazon, or make it yourself if you've got some veggies to use up.
Cut the oil in the recipe down to 1 or 2 tablespoons to reduce the saturated fat.
Get the recipe at Mama Likes to Cook.
2. Quick Leftovers Fried Rice
Here's another fried rice recipe to try. It only takes 15 minutes to make this quick and easy leftover rice recipe! Use up your day-old rice and whatever you have in your fridge or pantry, like eggs, frozen veggies, and cabbage. Add leftover chicken or shrimp to customize it to your tastes!
Get the recipe at Urban Farmie.
3. Lemon Rice
Pantry-friendly rice recipes like this one are the ultimate comfort food! This Lemon Rice is flavorful, crunchy, and tangy. Spice up your rice with cashews, peanuts, lemon juice, and mustard seeds with this south Indian dish perfect for a big family meal. This is one you'll want to have again tomorrow!
Get the recipe at Veg Recipes of India.
Leftover Chicken Recipes
Whether you start with leftover chicken or make a batch of baked chicken breasts especially for these recipes, they're perfect for "clean out the pantry" meals.
4. Bottom of the Pantry Dinner Hash
This dinner hash is made out of basic ingredients you're likely to have left over, like veggies, garlic, and cheese. It's super customizable; the only essential ingredient is the potatoes (but you could swap in sweet potatoes or another starchy root veggie). To make the meal even quicker, add some leftover chicken.
Get the recipe at Faithful Farmwife.
5. Healthy Buffalo Chicken Chili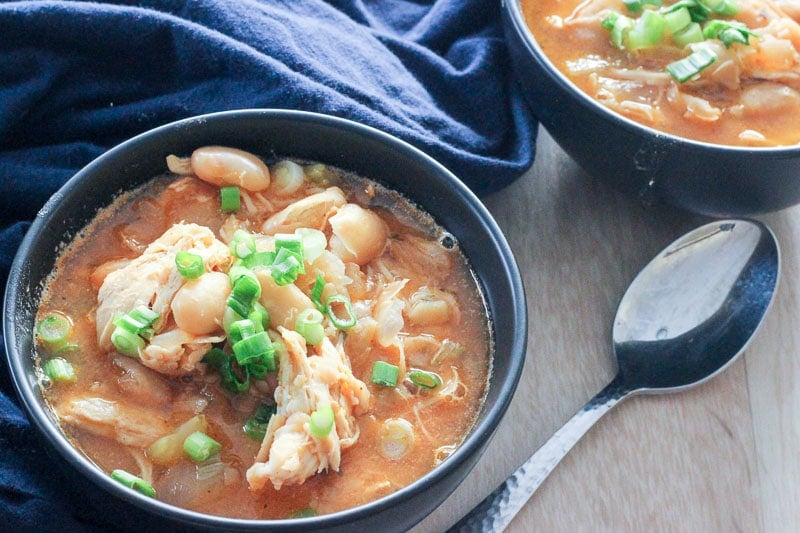 Freezer-friendly, easy to make, and healthy, this chicken chili is full of pantry staples like canned kidney beans, hot sauce, chicken broth, veggies, and spices. Plus, it's only 180 calories per serving but packs in 20 grams of protein with only 1 gram of added sugar!
We recommend swapping the ranch dressing with yogurt and dried herbs, if you have them. Watching your sodium intake? Start with half the amount of Frank's and add more to taste.
Get the recipe at Delicious on a Dime.
Leftover Oatmeal Recipes
Have a surplus of oats in the pantry? Whip up one of these recipes when you grow tired of plain oatmeal!
6. Pantry Items Dried Fruit Oatmeal Bake
This gluten-free oatmeal bake uses only pantry-friendly, nonperishable items. Use any dried fruit you have in your cupboard, like apricots and cranberries, plus oatmeal and applesauce! Sweeten yours naturally with maple syrup or honey.
Get the recipe at Any Reason Vegans.
7. Oat Flour Pancakes
Soft and fluffy, these vegan, gluten-free pancakes are hearty and ready in under 25 minutes. (They're also free of refined sugars!) You'll need rolled oats, baking powder, and apple cider vinegar to get these 90-calorie pancakes on the breakfast table.
Get the recipe at Rhian's Recipes.
8. Coconut-Cashew Overnight Oats
Satisfy your sweet tooth in a healthy way while "shopping" your pantry with this cashew butter, rolled oat, and Greek yogurt overnight oat recipe. Meal prep a big batch for a week's worth of quick, fiber-full breakfasts!
Get the recipe at Openfit.
9. Baked Oatmeal Cups with Raisins and Walnuts
These breakfast cups are sweet, crunchy, and full of wholesome ingredients like rolled oats, walnuts, raisins, honey, and bananas. Each breakfast cup has only 154 calories, 3 grams of fiber, and only 1 gram of saturated fat!
Get the recipe at Openfit.
Pantry-Friendly Recipes
No leftovers? No problem. You'll have plenty of them after whipping up these pantry-friendly recipes.
10. Instant Pot Minestrone Soup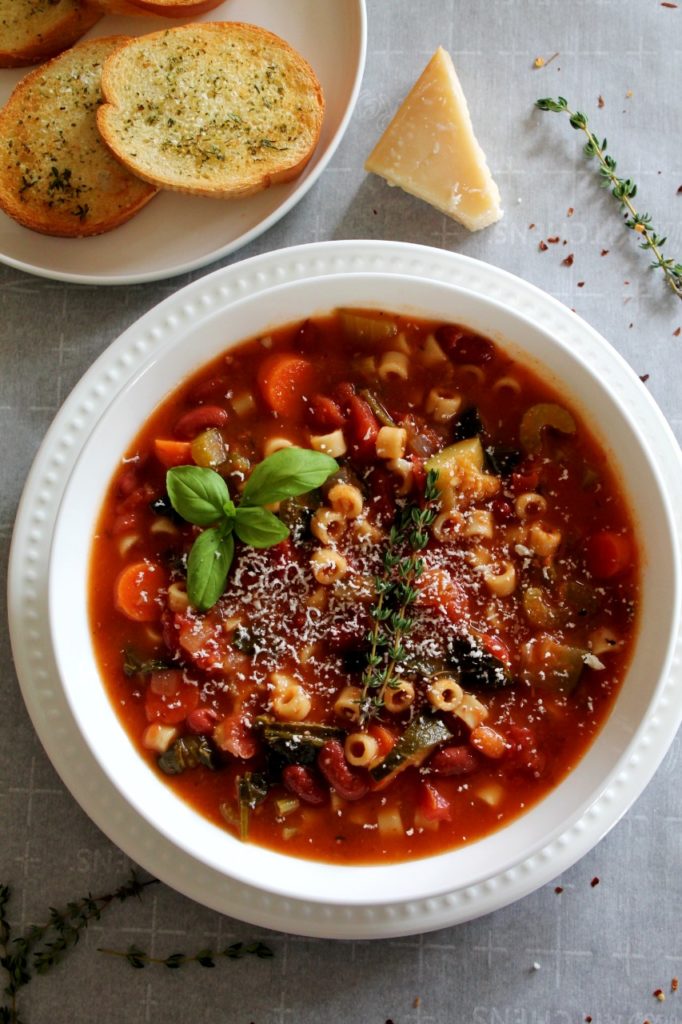 This beautiful minestrone soup is healthy, warm, and easy to make in an Instant Pot! It utilizes several pantry staples like beans, veggies, fresh garlic, broth, pasta, and canned tomatoes, flavored with yummy Italian herbs such as thyme, oregano, and basil.
Get the recipe at Living Smart & Healthy.
11. Sesame Noodles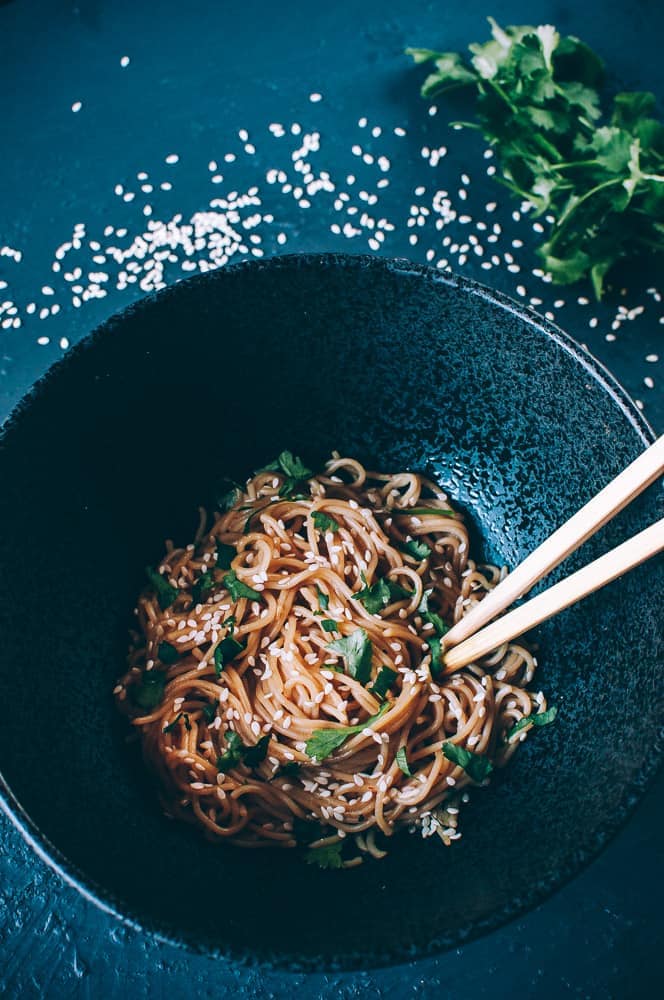 Use up ramen noodles, pasta, or rice noodles you've got left over to make this gluten-free, nut-free, soy-free, and vegan sesame noodle dish. It's made with simple ingredients like maple syrup, sesame oil, coconut aminos (or soy sauce if you prefer), and some sriracha for a little kick.
For more protein, serve with Sesame Salmon with Fennel and Orange Salad.
Get the recipe at Moon and Spoon and Yum.
12. Italian Chickpea Soup (Pasta E Ceci)
With only 226 calories per serving, this delicious, hearty soup of veggies, chickpeas, broth, and pasta can come together with items found in your pantry. It's warm, comforting, and flavorful, without any added sugar.
Get the recipe at Pina Bresciani.