17 No-Cook Meal Prep Recipe Ideas
Mar 26, 2020
Short on time, patience, and hands? These no-cook meal prep recipes are designed to keep things simple and easy in the kitchen, and tasty and convenient outside of it.
New to meal prepping? Looking to optimize your time in the kitchen? For successful, healthy no-cook meal prepping, follow these pro-tips:
Get pre-cooked foods when possible. For a no-cook meal prep, let someone else do the cooking for you! Grab a rotisserie chicken and pull from it all week to add to salads, sandwiches, or store some pre-cooked frozen shrimp in your freezer for another easy protein addition.
Pre-chop your ingredients. Get all of the hard work out of the way at the beginning of the week. Keep your chopped veggies fresh by storing them in meal prep containers like mason jars or bento boxes before you're ready to add them to salads or munch on them for a snack.
Invest in some key kitchen equipment. The right tools can save you a ton of time. A good blender can be life changing, food processors are a stellar way to quickly dice up food, and nothing beats a set of sharp knives.
Create grab-n-go snack boxes. Don't let a time crunch derail your healthy eating habits. No-cook snack boxes that you can grab as you run out the door can be a great way to keep your stomach filled with wholesome foods.
Here's a list of our favorite no-cook meal prep recipes for every meal!
Stick to your clean eating goals with Openfit! Sign up for free today for more healthy recipes.today!
Breakfast
1. Pumpkin Overnight Oats
Leave your pumpkin spice overnight oats in the fridge for at least four hours and you'll have a delicious and filling breakfast that gives you all the fall feels, all year 'round!
Get the recipe at Openfit.
2. Beet Berry Superfood Smoothie
Packed with 28 grams of protein, this filling smoothie is an easy way to start your day. For speedy preparation, combine all ingredients except for the milk, ice, and yogurt into a jar at the beginning of the week. Then, you can just dump out the correct portions into the blender in the morning.
Get the recipe at Openfit.
3. Breakfast Chia Pudding
Just add chia seeds to a cup of coconut milk and some sweetener, leave it in the fridge overnight, and enjoy this easy breakfast that's filling, delicious, and nutritious!
Get the recipe at Lathis Kitchen.
4. Apple Pie Overnight Oats
The taste of cozy apple pie with cinnamon and nutmeg in the morning that's healthy, quick, and easy? Yum! This no-cook meal prep overnight oat recipe easily stores in mason jars in the fridge, and only takes a few minutes to prep!
Get the recipe at Simple Gray TShirt.
Lunch
1. Chicken Burrito Bowl
Although the original version of this recipe requires cooking, a few easy swaps removes any need for the stove. You can buy pre-cooked chicken and pre-cooked rice that you just need to pop in the microwave. Then, you can have this quick, zesty, and balanced Mexican-inspired dish ready for you any time you want it!
Get the recipe at Openfit.
2. Low-Carb Greek Salad Meal Prep Jars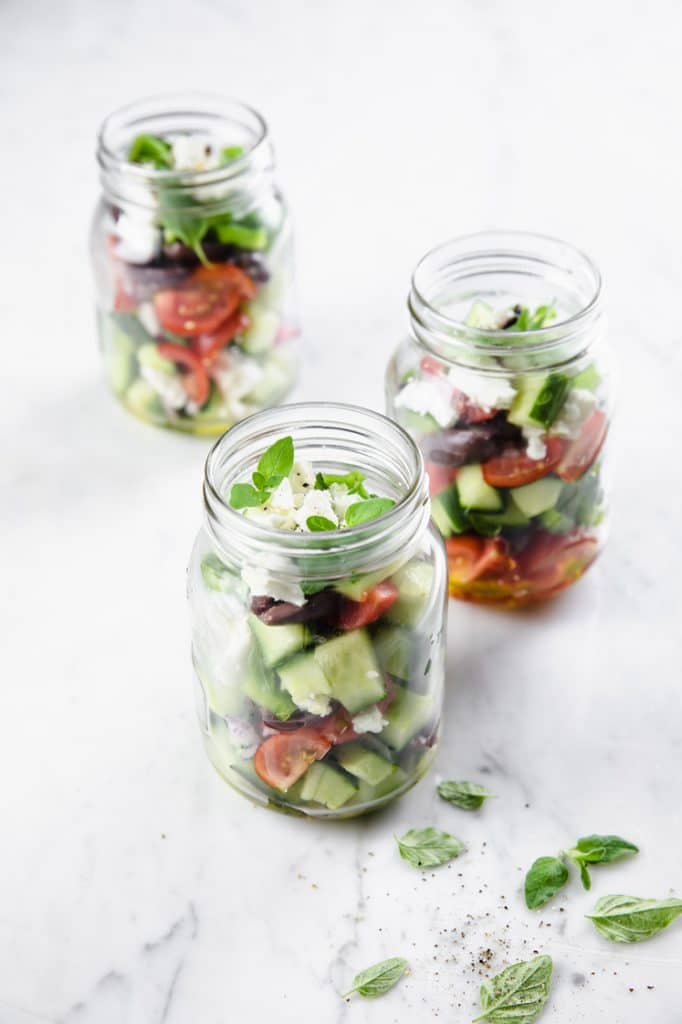 These low-carb Greek salad meal prep jars only take 10 minutes to prepare and contain just 5.2 grams of net carbs per serving. Easily store them in mason jars in the fridge for fresh work lunches to go!
Get the recipe at Real Balanced.
3. Asian Coleslaw with Peanut Dressing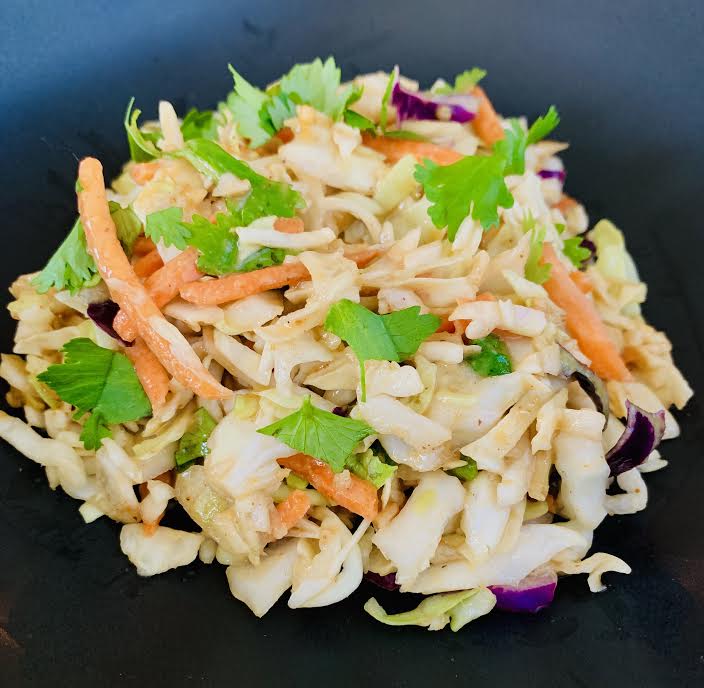 Make a big batch of this cabbage, carrot, pepper, onion, and cilantro coleslaw with peanut dressing and use as your favorite side dish for any meal. Make it healthier by cutting the dressing in half and swapping honey for sugar.
Get the recipe at The Art of Food and Wine.
4. Vegan Tuna Salad Sandwiches with Chickpeas
You just need a food processor to make the delicious vegan tuna salad sandwich filling. Scoop out a portion and top onto sprouted whole grain bread or lettuce for lunch!
Get the recipe at Cadry's Kitchen.
Dinner
1. Mediterranean Salad with Chicken
An easy Mediterranean salad topped with a tangy red wine vinaigrette. Store in your meal prep containers for dinners all week!
Get the recipe at The Rising Spoon.
2. Raw Vegan Rainbow Tacos
Keep this no-cook meal prep dinner fresh by pre-chopping all the veggies a head of time, but waiting to fully assemble the tacos until you're ready to eat. And this is a versatile meal prep recipe! Enjoy one taco for a light snack, or all four for a more filling meal.
Get the recipe at Key to My Lime.
3. Rotisserie Chicken Salad
Using your pre-cooked rotisserie chicken, combine with chickpeas, cucumbers, tomatoes, avocado, dill, lemon juice and olive oil, and season with salt and pepper for a super easy and healthy no-cook meal!
Get the recipe at Tasty Galaxy.
Snacks and Desserts
1. Chocolate Banana Pudding
The rich, chocolaty flavor of Openfit Recovery Post-Workout Formula paired with powdered peanut butter, Greek yogurt, banana, and rice milk makes for one creamy, no-cook meal prep, post-workout snack packed with 35 grams of fast-absorbing protein.
Get the recipe at Openfit.
2. Peanut Butter Energy Balls
Store these peanut butter, oat, flax, hemp, cocoa powder, honey, and dark chocolate no cook meal prep energy balls refrigerated in an airtight container to keep them fresh longer.
Get the recipe at VegCookBook.
3. Turmeric Superfood Smoothie
This turmeric and mango smoothie is full of protein, healthy fats, and vitamins and tastes incredible! Store several in the fridge for a week of smoothie snacking.
Get the recipe at Openfit.
4. No-Bake Vegan Gingerbread Cookie Balls
In just 15 minutes, you can make a bunch of delicious coconut, ginger, pecans, dates, and cinnamon-packed holiday treats, without any yucky artificial ingredients.
Get the recipe at Openfit.
5. Watermelon Popsicles
It just takes 10 minutes of prep and a few hours of freezing to make these awesome pre-workout watermelon popsicles. Make a whole batch and store them for as long as you can resist eating them!
Get the recipe at Openfit.
6. 2 Ingredient Coconut Bites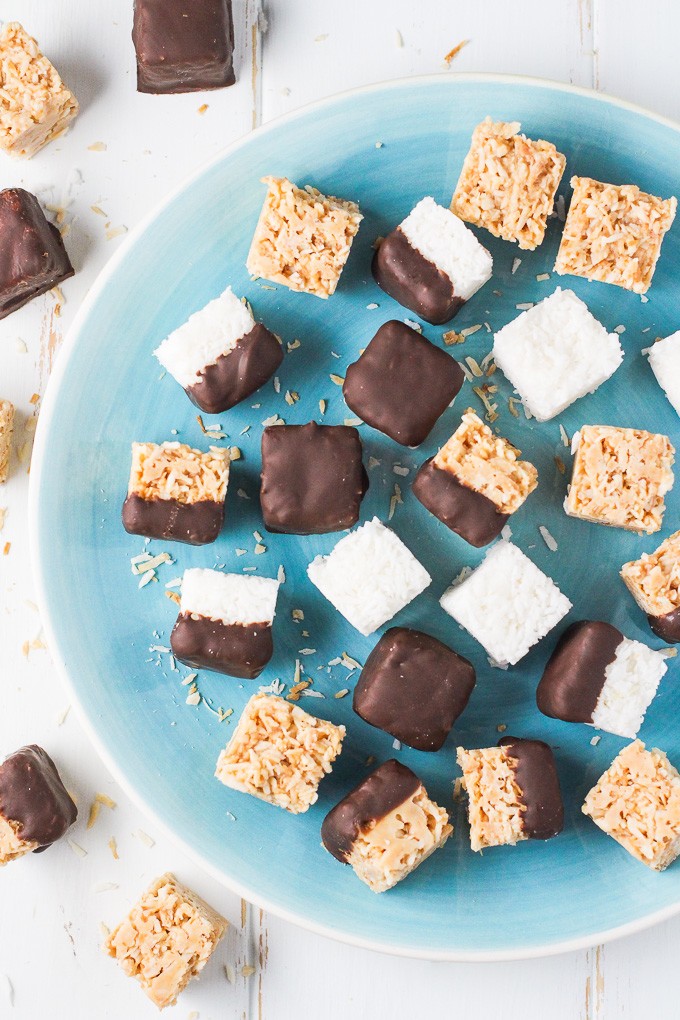 These yummy coconut bites are made with just two ingredients – shredded coconut and chocolate. How simple is that?
Get the recipe at Maria Ushakova.