Low Carb Meal Prep Tips—and 19 Must-Try Recipes
Jan 23, 2020
Between snooze buttons, coffee runs, and rush hour commutes, mornings can leave little time for substantial breakfasts and quality packed lunches. Add to that list jam-packed evenings filled with workouts, happy hours, and work functions, and cooking up any kind of dinner dish seems just as daunting—especially when it's a low carb solution you're seeking. That's why a low carb meal prep plan can be a total game changer.
Meal planning is a great way to maintain your busy schedule and still eat low-carb friendly. It involves time-saving and strategic shopping outings, plus single or bi-weekly kitchen sessions. In other words? This is your workweek's new best friend.
Find a nutrition plan that's right for you with Openfit! Try it out for free today and start exploring meal plans made to fit your needs.
19 Low Carb Meal Prep Ideas
To help kick off your meal planning routine, check out these prep-and-pack recipes—all low on carbs and full on flavor. And get some tips below to help you put together your meals efficiently!
Note: There's really no exact definition of what "low carb" is, but we chose these recipes that place more emphasis on the protein and fat macros than on carbs.
Low Carb Breakfasts
1. Vegan Tofu Scramble
Get the recipe: Openfit
2. Keto Everything Bagels
Get the recipe: Openfit
3. Low Carb Zucchini Muffins
Get the recipe: Sugar Free Londoner
4. Petite Crustless Quiche
Get the recipe: Skinnytaste
5. Low Carb Peanut Butter Smoothie
Get the recipe: Food Faith Fitness
Low Carb Lunches
6. Chicken Kabobs with Veggies
Get the recipe: Openfit
7. Low Carb Indian Chicken Skillet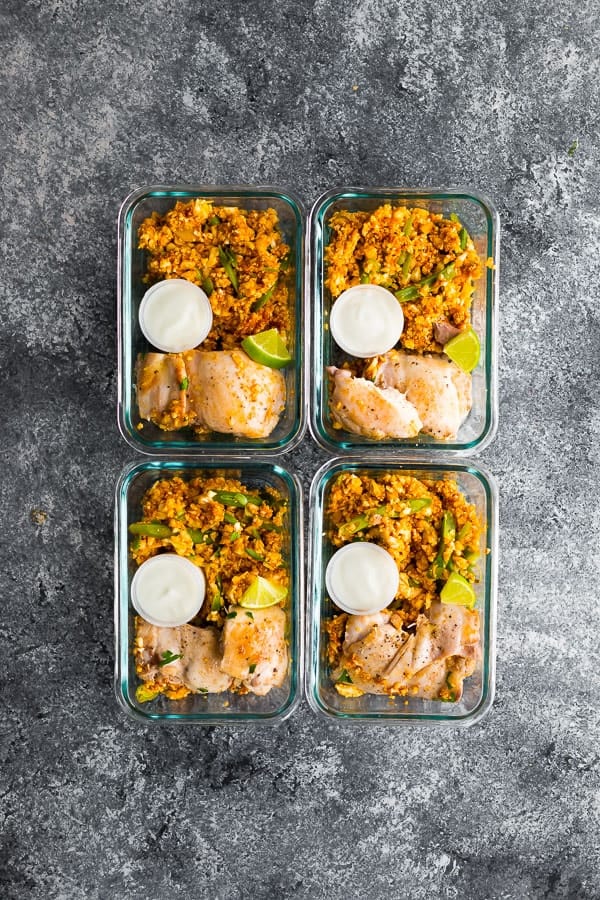 Get the recipe: Sweet Peas and Saffron
8. Chicken Taco Lettuce Wraps
Get the recipe: Gimme Delicious
Pro tip: make the chicken and sauce ahead of time, and then assemble the wraps when you're ready to eat.
9. Honey Sriracha Glazed Meatballs
Get the recipe: Eat Yourself Skinny
10. Low-Carb Cauliflower Sushi
Get the recipe: Ditch the Carbs
11. Vegan Spring Roll Bowls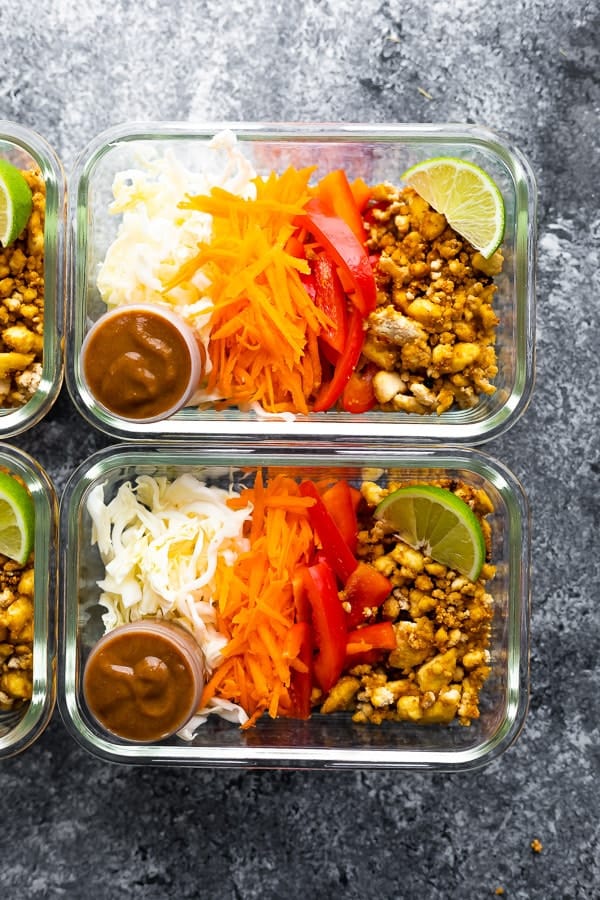 Get the recipe: Sweet Peas and Saffron
Low Carb Dinners
12. Chicken Breast with Feta and Artichoke
Get the recipe: Openfit
13. Vegan Red Thai Coconut Curry
Get the recipe: Lauren Caris Cooks
Pro tip: omit the potatoes to keep the carb count down.
14. Paleo Chicken Teriyaki
Get the recipe: Cotter Crunch
15. Thai Baked Turkey Meatballs
Get the recipe: A Spicy Perspective
16. Vegetable and Ground Beef Skillet
Get the recipe: The Roasted Root
17. Low-Carb Salmon Patties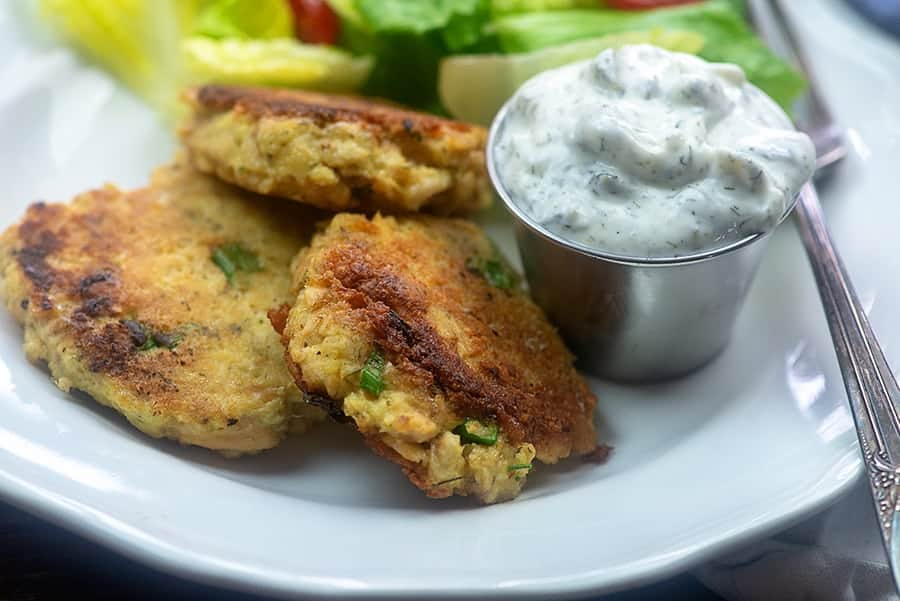 Get the recipe: That Low Carb Life
Pro tip: make the mixture ahead of time, and then cook them up when you're ready to eat!
Low Carb Desserts
18. No Bake Brownie Bites
Get the recipe: The Big Man's World
19. Low-Carb Peanut Butter Chocolate Bites
Get the Recipe: Let's Eat Cake
How to Make a Low-Carb Meal Prep
To ensure you're getting ahead of the clock while still adhering to your low-carb nutrition goals, remember to keep protein and veggies front and center. When shopping, stock up on items like lean beef, chicken, and fish (opt for grass-fed beef and wild-caught fish when possible), along with eggs and plenty of colorful vegetables (from spinach and broccoli to cauliflower and carrots).
Meal Prep Tips
To help make the most of your time (and energy), call upon these high-efficiency kitchen tips when you're making your low carb meal prep:
Choose one day to meal prep: Pick the best day to make culinary goodness happen. This is the day that you will choose your low carb meal prep recipes, purchase your ingredients, and work your magic in the kitchen. While any day of the week is fair game, Sundays are a day for good many people, thanks to the extra down time and the chance to plan for the coming workweek.
Start small. Instead of spending hours strategizing meals for the entire week, choose to focus on one or two days. This approach will help you save time in the kitchen come prep day, and can help shape your meal prep goals and capabilities— like what low carb meal prep recipes you love and which ones were the easiest to pull off.
Cook in bulk. If three of your weekly recipes call for chicken, roast enough chicken breasts during one prep day to avoid the need to schedule another day of cooking. Another time-saving way to cook in bulk? Consolidate recipes that call for the same or similar oven temperatures, so that multiple components can be cooking at once.
Cook in the right order. If you're mindful of the order in which you cook items, you can limit the amount of cleaning you have to do, and possibly add flavor to dishes. For example, use a food processor for ingredients that you know you can easily clean before blending a second component that might be stickier and require scrubbing. When using a cast iron pan, use the drippings or seasonings from your first component to help enhance the second one. Even measuring can be made easier! Measure out items like oil before stickier ones (i.e. honey or maple syrup) to help the latter come out in a cinch.
Get the right tools: Make room for plenty of meal prep containers and jars, which will come in handy for daily lunches and breakfasts on-the-go. Think: freezer and refrigerator friendly air-tight containers. For cooking days, you'll want to be sure you're equipped with some essential kitchen tools: a chef's knife, measuring cups, cutting boards, mixing bowls, and a sauté pan.