Is Wild Rice the Healthiest Type of Rice?
Nov 20, 2020
This article may contain affiliate links. We collect a share of sales from qualifying purchases.
Get ready to have your mind go poof. Even though everyone and their mom thinks that brown rice is the best rice for your body, there's another option out there that's worth a taste. Say hello to wild rice.
Technically, this dark, nutty grain is actually a type of grass. But if it looks like rice, and it cooks like rice, then hey! No big thing. Here's what makes wild rice so awesome, plus how to get your fill.
Find more health and nutrition tips on Openfit! Get started for free today.
Wild Rice Nutrition Facts
One cup of cooked wild rice contains 166 calories, 35 grams of carbohydrates, 6.5 grams of protein, and 3 grams of fiber. It also provides some minerals like zinc, manganese, and magnesium.
If you're a numbers person, here's how wild rice nutrition stacks up to actual rice (per one cup cooked):
Wild rice: 166 calories, 6.5g protein, 35g carbohydrates, 3g fiber
Brown rice: 218 calories, 4.5g protein, 46g carbohydrates, 3.5g fiber
White rice: 205 calories, 4g protein, 44.5g carbohydrates, 0.5 g fiber
Wild Rice and Arsenic
Of course, no food is perfect. Like brown rice and white rice, wild rice absorbs small amounts of arsenic that occur naturally in the soil and water. According to the FDA, the general population doesn't need to change their rice consumption based on this, but pregnant women and children should be mindful about how much they consume.
If you're still concerned, the FDA suggests cooking rice like pasta: Boil it in a large amount of water, then drain it. This may reduce the amount of arsenic by up to 60 percent. And mix up your carbs — enjoy rice a few times a week, but round it out with other whole grains like quinoa, buckwheat, or millet.
Benefits of Wild Rice
Let's picture wild rice, brown rice, and white rice sitting on a (delicious) spectrum.
Wild rice sits on the healthier end of the spectrum, for a few key reasons:
White rice is at the less-healthy end of the spectrum. Because it's been stripped of its nutrient-rich bran and germ, un-enriched white rice has the least amount of fiber, protein, vitamins, minerals, and antioxidants. Nutritionally speaking, it's pretty similar to white pasta, Caspero says.
Brown rice is somewhere in the middle — but if you had to give a precise location, it would probably sit closer to wild rice. Brown rice provides fiber and offers up many of the same vitamins and minerals found in wild rice. "It's like comparing apples to blueberries," Caspero says. "Blueberries contain more antioxidants, but both are healthy options."
So instead of thinking solely in terms of which grain is healthiest, balance the nutritional stuff with your personal preferences. If you're not a fan of wild rice, it's okay to stick with brown rice — as long as you pair it with nutrient-dense foods. "So many foods are healthy choices," Caspero says. "Don't stress about choosing the 'healthiest' one all the time."
4 Recipes for Using Wild Rice
Want to make all that wild rice nutrition part of your diet? Try adding it to grain salads, pilafs, or soups. You can also use wild rice to stuff Portobello mushroom caps or winter squash. The Whole Grains Council even suggests using it as part of a crispy breading for salmon.
Here are a few more healthy wild rice recipes to try.
1. Healthy Stuffed Cabbage Rolls and Peppers
Cabbage rolls and bell peppers are stuffed with wild rice, ground beef, and caramelized veggies in this gluten-free recipe at Healthy Taste of Life.
2. Wild Rice Salad
Mix wild rice with cucumbers, tomatoes, kidney beans, and corn to make this simple and healthy grain salad from Little Sunny Kitchen.
3. Instant Pot Vegan Wild Rice Pilaf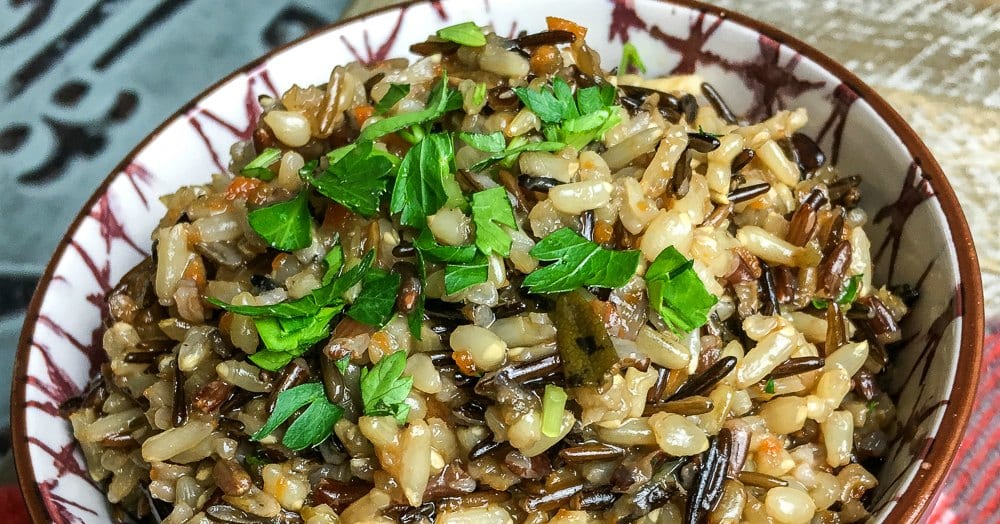 Onion, carrots, and celery add plenty of crunch to this easy mushroom pilaf recipe from Mama Likes to Cook.
4. Summer Wild Rice Salad
This summery salad recipe makes 8 to 10 servings — and provides loads of flavor from berries, peppers, nuts, and feta. Get the recipe at Real Housemoms.
Where to Buy Wild Rice
Wild rice can usually be found at grocers like Whole Foods, Trader Joe's, and Sprouts — but it may also be on the shelves at your local supermarket or Walmart.
You can also order wild rice online. Here are a few options: