Put Your Instant Pot to Use With These Meal Prep Ideas
Mar 11, 2020
If you've never used an Instant Pot before, get ready to have your mind blown. This nifty, versatile kitchen gadget functions as a pressure cooker, slow cooker, rice cooker, steamer, warmer, yogurt maker, and more. Essentially, using it for an Instant Pot meal prep is the best way to pre-make all your meals.
We're here to help make Instant Pot meal planning a breeze with some of our favorite basic recipes for chicken, oats, sweet potatoes, and eggs, plus some other creative, healthy, one-pot meals you can enjoy for breakfast, lunch, or dinner.
Below, you can find 20 plant-based and non-plant-based recipes with tons of flavor, balanced ingredients, and nutrition stats you can feel good about. And if that doesn't convince you to give it a try, we've also included some other reasons why this is one of our favorite meal prep items to save you time and headaches.
For more meal prep recipes, sign up for Openfit for free today!
1. Apple Cinnamon Quinoa Porridge
Whip up a batch of this lightly sweet and creamy quinoa breakfast dish, and enjoy it hot or cold before you head out in the morning. It also makes for an easy, packable breakfast or snack on the go! Get the recipe at Veggie Primer.
2. Steel Cut or Rolled Oats
Just like you can make a big batch of breakfast quinoa, you can use your Instant Pot to cook up a week's worth of oats for a healthy, grab-and-go breakfast (or even dessert) option. While you can choose just about any way to flavor and top your oats, this recipe offers 10 tasty flavor combinations to get you started. Get the recipe at Foodie Crush.
3. Easy Peel Hard Boiled Eggs
If you can't seem to master the hard boiled egg (we get it, somehow the shell won't budge or the yolks end up chalky), the Instant Pot will be your new best friend. Make a dozen and pop them in the fridge, so they're ready for a small breakfast or quick and healthy snack. Get the recipe at Kristine's Kitchen.
4. Chicken Burrito Bowls
With just five base ingredients and 30 minutes, you can have yourself a flavorful and customizable burrito bowl that's much healthier than your favorite counter-service joint. While this recipe sneaks in cauliflower, you can add plenty of extra veggies — like peppers, onions, lettuce, and tomatoes — on top. Get the recipe at Detoxinista.
5. White Bean Chicken Chili
For slow-cooked flavor in just a smidge of the time, this healthier chili recipe will be your go-to for cold nights. It even makes a perfect addition to a game day snack spread! Get the recipe at Openfit.
6. Lentil Gumbo
This dairy-free, gluten-free, vegan meal will leave you feeling full and satisfied. Since it's chock-full of fiber from the lentils and veggies, this recipe is plenty hearty without any meat. Get the recipe at Cotter Crunch.
7. Cauliflower Mac and Cheese
Get all the rich and cheesy flavor of traditional mac and cheese without multiple sticks of butter or refined-flour pasta. This healthier version calls for whole wheat pasta, plus a whole head of cauliflower to thickens the cheese sauce. Get the recipe at Well Plated.
8. Wild Rice and Kale Salad
This decked out version of a traditional kale salad adds wild rice to the mix for a more substantial lunch, side, or dinner option. Get the recipe at Cookie and Kate.
9. Chicken Tikka Masala
This recipe works the dual functions of sautéing and pressure cooking for a much quicker turnaround time than traditional tikka masala dish. But still, it doesn't sacrifice the slow-cooked flavor this dish is revered for. Get the recipe at Well Plated.
10. Buffalo Chicken Quinoa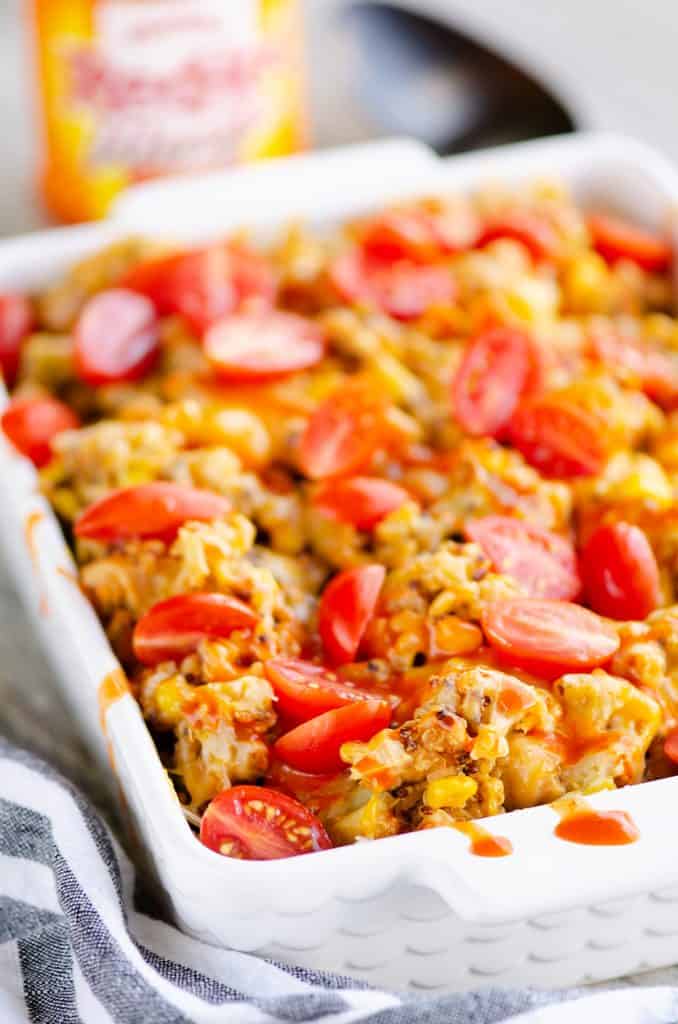 This spicy, veggie-filled meal clocks in under 500 calories per serving — and it's easy to make, too! While you could sub in fresh veggies (which will require a slightly longer cook time), this recipe cuts down the prep and cook times by using frozen ones. Get the recipe at The Creative Bite.
11. Salmon With Chili Lime Sauce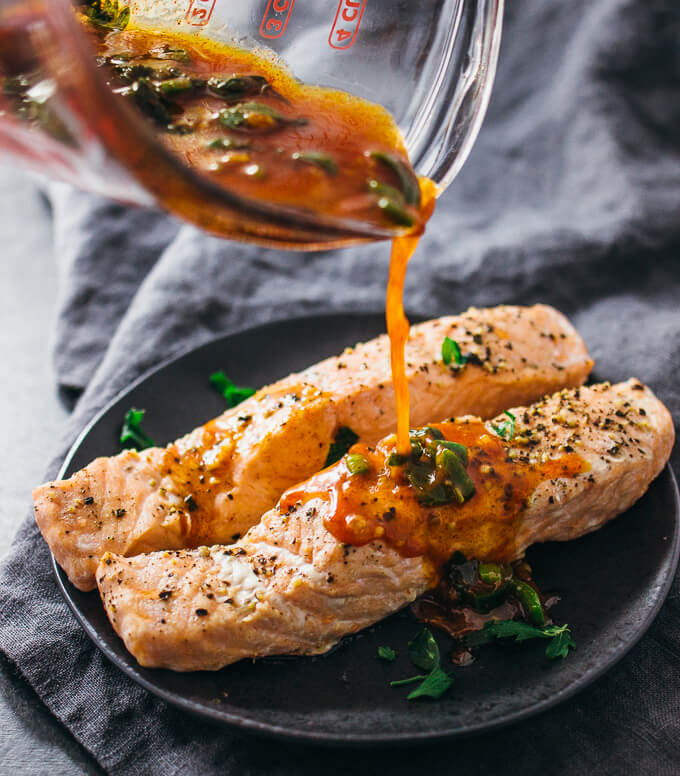 Sick of meal-prepped chicken breasts? Switch it up for salmon! This sweet, tangy, and slightly spicy flavored salmon recipe will help you refresh your tired work lunch or dinner routine. Get the recipe at Savory Tooth.
12. Shrimp Paella
With just five minutes of cooking time (plus some time to pressurize and depressurize) and hardly any prep time, it's quick work to make this flavorful, savory dinner option reminiscent of the Spanish coast. To make this recipe even healthier, reduce the ghee by half and swap in brown rice! Get the recipe at Health Starts in the Kitchen.
13. Mongolian Beef
Skip the takeout and make your own comforting Mongolian beef at home. It's an easy way to swap out the refined sugar that's often found in store-made dishes. This recipe gets a makeover in the rice department too (you can use brown rice or quinoa). Get the recipe at What Molly Made.
14. Korean Chicken Bowls with Spiralized Peppers
This balanced meal offers up plenty of protein thanks to the shredded chicken and quinoa, plus an array of colorful and flavorful veggies. The sweet, tangy, and spicy sauce make this lunch or dinner option crave worthy all week long. Get the recipe at Inspiralized.
15. Curried Sweet Potato Chickpea Quinoa
Here's a high-protein vegan meal you can enjoy as a hot dinner or a chilled lunch. It requires just five minutes of sauté time plus one minute (yes, you read that right) of pressure cooking time. Get the recipe at Cook With Manali.
16. Shredded Chicken
Chicken breasts are a staple of the meal prep world for good reason: They're an easy, healthy source of lean muscle-building protein. Keep your shredded chicken plain and versatile so you can add it to any meal, or try one of the seasoning combos mentioned in the recipe like Mexican, curry, or Italian. Get the recipe at Low Carb with Jennifer.
17. Sweet Potatoes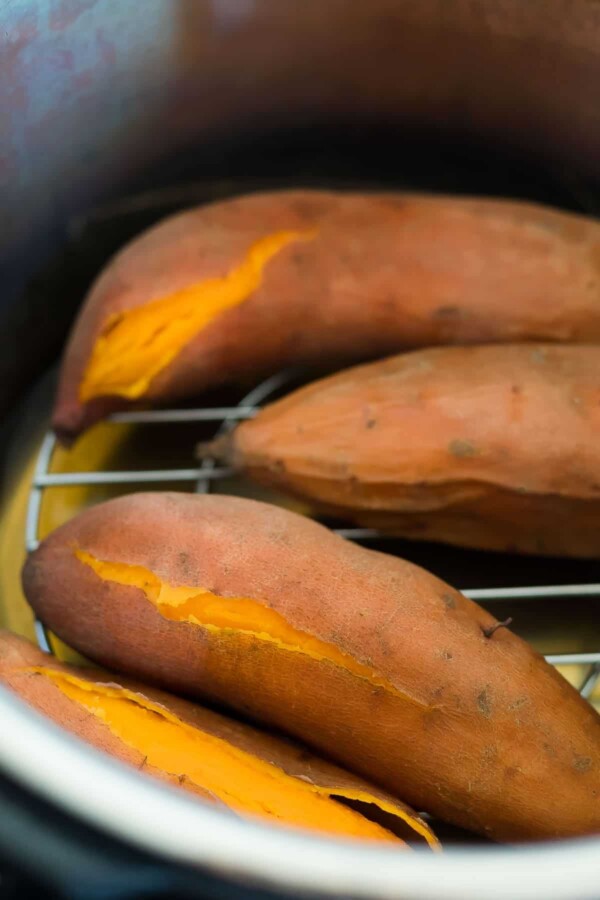 If you're in need of a healthy, budget-friendly way to bulk up your meal-prep options, simply turn to sweet potatoes. Once you cook up a batch, you can use them as a base for tons of recipes — from dips, wraps, and oatmeal to salads, pancakes, and tacos. Get the recipe at Sweet Peas & Saffron.
18. Stuffed Acorn Squash
While whole squash can be intimidating to cook, the Instant Pot takes all the fuss out of the process. All you have to do is cut your squash in half and pop it in the steamer basket with some water. From there, you can keep it plain, or make a filling right in the pot. Get the recipe at Eating Instantly.
19. Apple Crisp
With apples, oats, pecans, and zero refined sugar, you can pretty much eat this healthy, gluten- and dairy-free dessert for breakfast. Skip the coconut cream drizzle if you are watching your calorie intake and/or trying to lose weight. Get the recipe at Confessions of a Fit Foodie.
20. Chocolate Pudding
One serving of this healthier pudding packs 15 grams of protein, making this treat a totally acceptable post-workout snack. You can also easily make it dairy free, by using coconut oil! Get the recipe at Recipes to Nourish.
What Makes an Instant Pot Meal Prep So Great?
Not only is an Instant Pot is great for making meals to eat the day of, it's also spectacular for meal prep.
1. It cooks food quickly
You can perfectly cook food in way less time than it would take you in the oven or a slow cooker, and with much better results than if you exclusively used the microwave. While you do have to factor in pressurizing and depressurizing time for many recipes, here are some of the speedy cook times for popular dishes:
one to two minutes for asparagus
five minutes for hard-boiled eggs
six to eight minutes for chicken breasts
12 to 15 minutes for whole sweet potatoes
20 to 22 minutes for brown rice.
2. It provides pre-programmed cooking options.
Depending on the model you have, the Instant Pot offers an array of pre-programmed cooking options such as soup/broth, meat/stew, bean/chili, egg, rice, multigrain, and yogurt to help guide you through cooking when you don't have a recipe to refer to.
3. You can cook everything in one pot.
Finally, Instant Pot recipes also minimize cleanup since you can sauté and brown ingredients in the same pot you pressure cook them. That's some serious multitasking!