7 Healthier Options for Valentine's Day Candy
Feb 7, 2020
Valentine's Day is all about celebrating the people we love — and, let's be honest, it's also about the candy. From truffles to candy hearts to chocolate-covered caramels, there are so many options when it comes to Valentine's Day candy. It's fine to indulge in your favorite sweets, but if you don't want your Valentine's Day to end with an epic sugar crash, consider these healthier options.
Find more inspo on how to keep your Valentine's Day healthy on Openfit! Get started for free today.
1. SmartSweets Sweet Fish
This plant-based, non-GMO candy alternative is sweetened with allulose — a sweetener found in raisins and figs — and contains only 3 grams of sugar and 90 calories per serving. SmartSweets also makes healthier versions of gummy bears, sour gummies, and peach rings (the best kind of ring to get on Valentine's Day, obviously).
Get them at Amazon.
2. Strawberry Coconut Truffles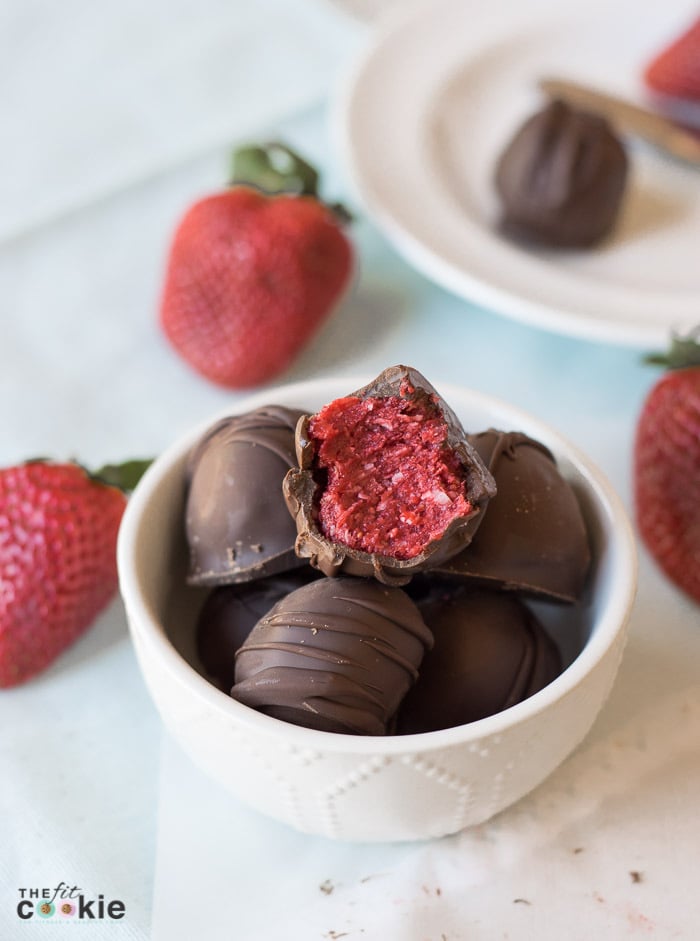 Get the Valentine's Day feels — without all the processed ingredients — with these vegan Strawberry Coconut Truffles. Made with unsweetened shredded coconut and a mix of fresh and freeze-dried strawberries, these homemade candies have less than 150 calories per serving and even provide a bit of vitamin C and calcium. (At 8 grams of saturated fat per truffle, though, you may want to eat just one and share the rest!)
Get the recipe at The Fit Cookie.
3. Stevita Stevia Sweet Candy
Sweetened with isomalt — a natural sugar alcohol — and stevia, these hard candies are gluten-free, organic, and full of fruity flavor. Just don't eat the whole tin, because sugar alcohols can cause uncomfy gastro symptoms for some people.
Get them on Amazon.
4. Peanut Butter-Stuffed Chocolate-Covered Dates
Those boxes of assorted chocolates can be hit-or-miss. Make a batch of these yummy homemade chocolates instead — they're surprisingly easy to make and the perfect gift for your Valentine's Day date. (See what we did there?) Each medjool date contains 16 grams of sugar, so reduce the sugar content a bit by using stevia-sweetened baking chocolate — and just keep in mind some stevia chocolate chips also contain sugar alcohols like erythritol, which can cause tummy troubles if you eat too much.
Get the recipe at Happy Foods Tube.
5. Healthy Homemade Jello Fruit and Veggie Snack
If you're looking for a family friendly treat that's healthier than the average Valentine's Day candy, try these adorable homemade jello hearts. They're made with frozen raspberries and spinach, and they only contain 18 calories and 2 grams of sugar per heart.
Get the recipe at Food Meanderings.
6. Unreal Dark Chocolate Peanut Butter Cups
These healthier peanut butter cups only contain 5 grams of sugar per serving, but they're not sweetened with stevia, sugar alcohols, or artificial sweeteners. They just use… less sugar. And if you're not a fan of PB, Unreal offers other chocolate-covered candies, like coconut bars and crispy quinoa bites.
Get them at Amazon.
7. Tom & Jenny's Spiced-Rum Soft Caramel
These healthier caramels have a spicy kick from cinnamon, cardamom, and allspice — and each serving (which is five caramels!) only has 100 calories. They do contain 23 grams of sugar alcohols per serving, so limit your intake to avoid unpleasant gastro symptoms.
Get them at Amazon.