14 Healthier Christmas Cookies to Keep You On Santa's "Good" List
Oct 19, 2021
When the holiday season rolls around, you can count on an overabundance of sweet treats — especially cookies. Although many not-so-nutritious desserts may surround you at the office, home, and holiday parties, there are in fact some healthy Christmas cookie recipes out there!
To stick a little closer to your healthy diet during the holiday season, turn to these recipes when it's time to contribute to a cookie swap. They also make great additions for your next family gathering! We won't tell anyone that these recipes are slightly healthier than the norm, if you don't.
Ready to get in on the secret of making healthy cookie recipes? Read on for our favorites.
Get healthy and festive holiday recipes with Openfit's One Minute Meal Plan! Try it here for free.
1. Sugar Cookie Cut Outs
Although this recipe does use refined sugar, these cookie-cutter-ready Christmas sugar cookies swap out white flour for the more nutritious and fiber-filled coconut and almond flours. We recommend outlining your cookies in icing, like some of those pictured, to keep the sugar level in check.
Get the recipe at Fit Foodie Finds.
2. Almond Thumbprint Cookies with Cherry Jam
Filled with an easy homemade cherry chia seed jam, this thumbprint cookie recipe uses almond flour as a base, and uses coconut oil, which is packed with heart-healthy MUFAs, instead of butter.
Get the recipe at Detoxinista.
3. No-Bake Vegan Gingerbread Balls
Ok, so theses aren't technically cookies, but these bite-sized gingerbread balls are sure to be a hit, for vegans and non-vegans alike! They take on the flavor of a favorite holiday treat, without any white sugar or flour. Yes, that means they're even gluten-free! And they don't require baking, which makes them a great option for when you need to whip up something quick.
Get the recipe at Openfit.
4. Keto Peanut Butter Cookies
With just three primary ingredients — peanut butter, eggs (chia seeds for the vegan version), and a granulated sweetener of your choice — these simplified peanut butter cookies really let the peanut butter flavor shine. Enjoy them on their own or dip them in chocolate and top with chopped nuts for an added crunch.
Get the recipe at The Big Man's World.
5. Peanut Butter Balls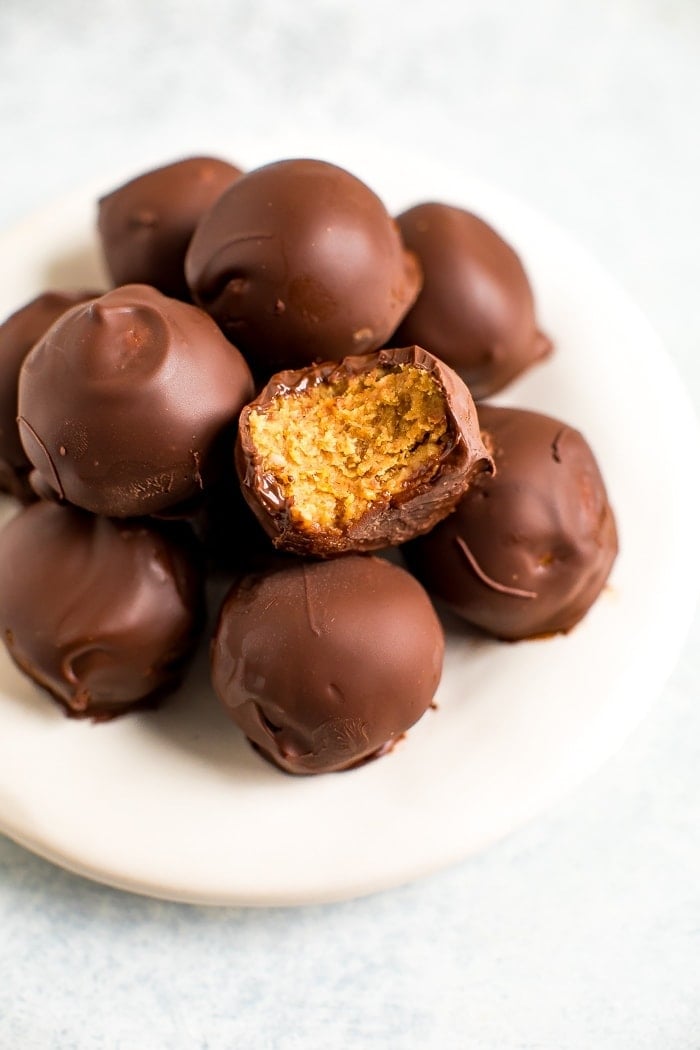 These treats don't need butter and added sugar to taste sweet and rich. Made with peanut butter, oats, dates, chocolate, and coconut oil, this healthier no-bake recipe is a great alternative to traditional peanut butter balls or cookies.
Get the recipe at Eating Bird Food.
6. Soft Pumpkin Cookies with Salted Maple Frosting
Both grain-free and gluten-free, these soft cookies combine two of the best seasonal flavor favorites: pumpkin and maple. This healthier cookie recipe calls for a mixture of almond and coconut flours, and it subs in coconut oil for butter. Save some calories by cutting the optional frosting and rolling the cookies in cinnamon before baking instead.
Get the recipe at Ambitious Kitchen.
7. Cranberry Orange Oatmeal Cookies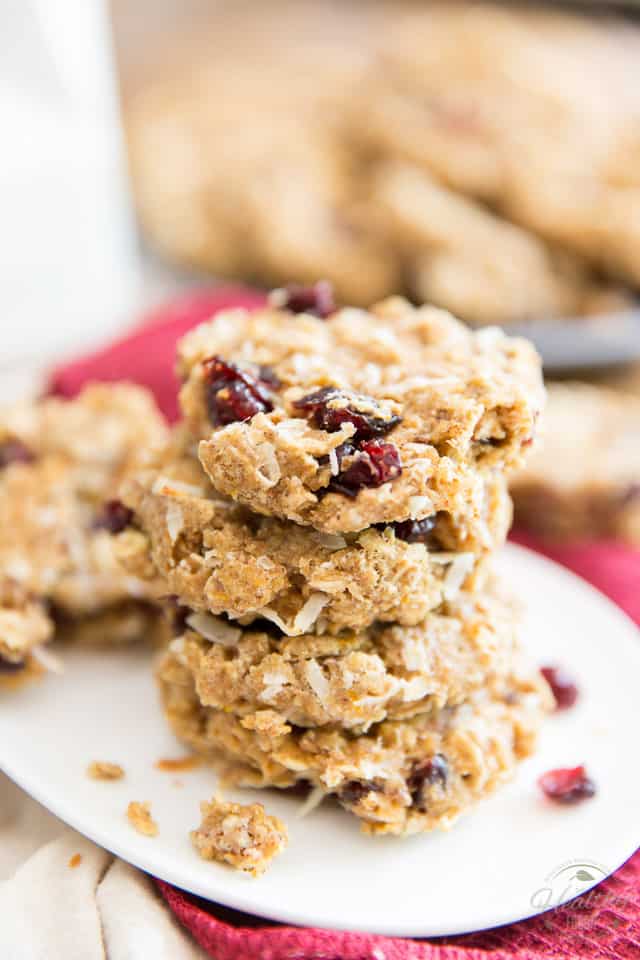 These healthy oatmeal cookies include so many wholesome, nutritious ingredients — from rolled oats and almond meal to flaxseed and applesauce — that we wouldn't judge you if you eat them with breakfast. They also add a seasonal twist to the traditional oatmeal cookie by including dried cranberries and orange juice and zest.
Get the recipe at The Healthy Foodie.
8. Healthy Red Velvet Cookies
If you love a red velvet recipe, but hate fake food coloring, this recipe is for you! These festively-hued soft and chewy cookies get their bright red color from beet juice. But don't worry, you won't notice a beet-y taste. These cookies are also made with spelt flour, instead of processed white flour.
Get the recipe at The Banana Diaries.
9. Paleo Maple Walnut Cookies
If you're into softer, healthier sugar cookies, rather than the break and bake kind, this recipe will be your new go-to. Using real maple syrup (instead of refined white sugar), almond flour, coconut flour, cashew butter, and walnuts, there's more to love about these cookies than just their delightful, wintery flavor.
Get the recipe at Physical Kitchness.
10. Healthier Gingerbread Cookies
Nothing says Christmas quite like gingerbread cookies. As a lower-sugar alternative to the traditional sweet and spicy holiday staple, this recipe uses whole-wheat pastry flour, coconut oil, and coconut sugar. Grab your favorite cookie cutters, and get baking!
Get the recipe at Cookie and Kate.
11. Peppermint Chocolate Cookies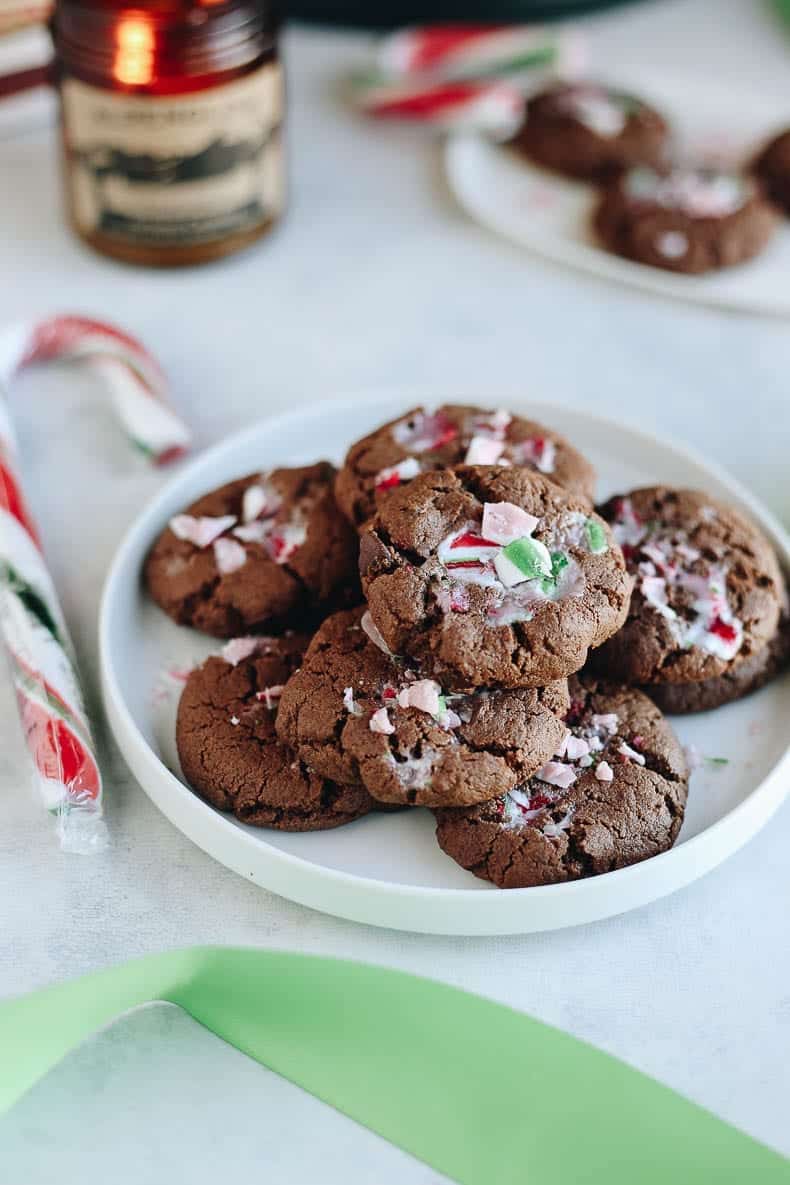 These grain-free paleo cookies have an almond butter base, and they get their sweetness from coconut sugar instead of refined sugar. And it's easy to avoid using sugary candy canes by using peppermint extract instead. How refreshing!
Get the recipe at The Healthy Maven.
12. No Bake Snickerdoodle Bites
No need to fire up the oven for these healthier energy balls that taste shockingly like a traditional Snickerdoodle cookie. They only require six ingredients, and get their sweetness naturally by using dates.
Get the recipe at Detoxinista.
13. Christmas Shortbread Cookies
While most shortbread relies on butter or margarine to achieve a rich, flaky texture, this super easy Christmas cookie recipe uses ghee, a clarified butter that boasts the vitamins A, E, and K. Other than that, you only need four additional ingredients. Sounds like a winner for a last-minute recipe!
Get the recipe at Root and Revel.
14. Gluten-Free Peanut Butter Cookies
Oat flour and peanut butter are the main stars of this gluten-free Christmas cookie recipe. This is a great flour alternative because it provides some fiber, and it adds just the perfect amount of extra oat-y flavor. Whip up a batch of these cookies, and you may never go back to a traditional PB cookie recipe again!
Get the recipe at Openfit.