25 Easy and Healthy Easter Brunch Recipes
Apr 7, 2020
Your Easter plans may be taking an unexpected turn this year, but no matter who you'll be sharing the holiday with, you can still enjoy these yummy Easter brunch recipes. Best of all, there are no complicated instructions or long lists of ingredients — just healthy and delicious meals to share with the ones you love!
Find more healthy recipe ideas on Openfit! Sign up for free today.
1. Healthier Deviled Eggs
Traditional deviled eggs already make a great brunch dish, but are usually filled with tons of fat and unhealthy ingredients. Give them a makeover with this recipe that keeps each serving at 110 calories (and that's for four pieces).
Get the recipe at Openfit.
2. Potato and Spinach Frittata
Yummy potatoes, red pepper, and spinach fill this delicious quiche. Plus this Easter brunch recipe can be made all in one skillet — great news if you don't want to spend your holiday doing dishes!
Get the recipe at The Recipe Well.
3. Eggs in Purgatory
This Italian variation on shakshuka is an easy, zesty, one-pan meal that'll spice up your Easter brunch — and it has 12 grams of protein and only 1 gram of sugar per serving!
Get the recipe at Pina Bresciani.
4. Green Frittata

This green frittata is a variation of the classic Persian kuku sabzi herb frittata. Made with six eggs and plenty of greens, it's a great way to fill your brunch plate with nutrient-rich veggies.
Get the recipe at The Curious Coconut.
5. Mini Pecan Pies
Traditional Easter pies can be loaded with calories and sugar, but you can satisfy your cravings with these yummy bite-sized versions instead — each mini pie contains just 61 calories and 4 grams of sugar.
Get the recipe at Openfit.
6. Sugar Free Banana Pancakes
Make your Easter brunch refined-sugar-free with this easy, three-ingredient banana pancake recipe. They only take 15 minutes to make, and they look as lovely as they taste!
Get the recipe at A Baking Journey.
7. Blender Carrot Cake Breakfast Bars
Spiked with cinnamon, cardamom, nutmeg, and ginger, these Easter breakfast bars are gluten-free and have no refined sugars. Make them in bulk and share some with friends and neighbors!
Get the recipe at Savory Spin.
8. Healthy Breakfast Pizza
This healthy breakfast pizza combines two favorites — pizza and breakfast. With a cauliflower crust, veggie toppings, and a whopping 40 grams of protein, it'll add a whole lot of savory flavor to your Easter brunch!
Get the recipe at Openfit.
9. Vegan Breakfast Tacos
Made with crumbled tofu, bell peppers, cumin, and turmeric, these breakfast tacos are full of flavor — and each two-taco serving provides 18 grams of protein and 7 grams of fiber.
Get the recipe at Openfit.
10. Healthy Vegan Tofu Scramble
Make a big batch of this tofu and cauliflower scramble — which has 5 grams of fiber and just 2 grams of sugar — for a yummy vegan Easter brunch that omnivores will love too.
Get the recipe at Openfit.
11. Keto Deviled Eggs with Chicken
You'll definitely won't want to hide these eggs! Filled with creamy spiced chicken and yogurt, these mayo-free deviled eggs are a great way to use up leftover chicken.
Get the recipe at Go Healthy Ever After.
12. Berry Delicious Smoothie Bowl
Sweetened with only raw fruits, this berry smoothie bowl is full of gorgeous colors — not to mention plenty of nutrients! This recipe makes one serving, but you can easily multiply it to make a batch for your entire Easter crew.
Get the recipe at Openfit.
13. Potato and Pea Egg Salad
Made with a fresh blend of herbs and hearty ingredients, this potato and egg salad with peas and mustard dressing is budget-friendly and can be ready in less than 30 minutes.
Get the recipe at The Clever Meal.
14. Baked Eggs in Buns
Garnished with vibrant fresh fruits, these baked eggs are ready in less than 30 minutes and only require a few ingredients.
Get the recipe at My Kitchen Love.
15. Butternut Squash Noodles
Pasta tends to be a go-to option when you're cooking for a crowd, but squash noodles are surprisingly easy to make and add some nutrients to your dish. You can buy them pre-spiralized at most supermarkets, or pick up a veggie spiralizer online.
Get the recipe at Openfit.
16. Baked Oatmeal Cups with Raisins and Walnuts
These sweet, crunchy breakfast cups will definitely be an Easter brunch favorite. The recipe makes 12 servings, so you'll have snacks ready for the whole week!
Get the recipe at Openfit.
17. Gluten-Free Hot Cross Buns
Hot cross buns are classic this time of year. Looking to cut back on the gluten and still indulge in a delicious sweet roll? Check out this recipe for a gluten-free version of the Easter favorite!
Get the recipe at Openfit.
18. Speedy Shakshuka
Made with fire-roasted tomatoes and fresh spinach, this easy, one-pan shakshuka recipe is a healthier version of the classic Israeli dish.
Get the recipe at Openfit.
19. Breakfast Egg, Veggie, and Sausage Muffins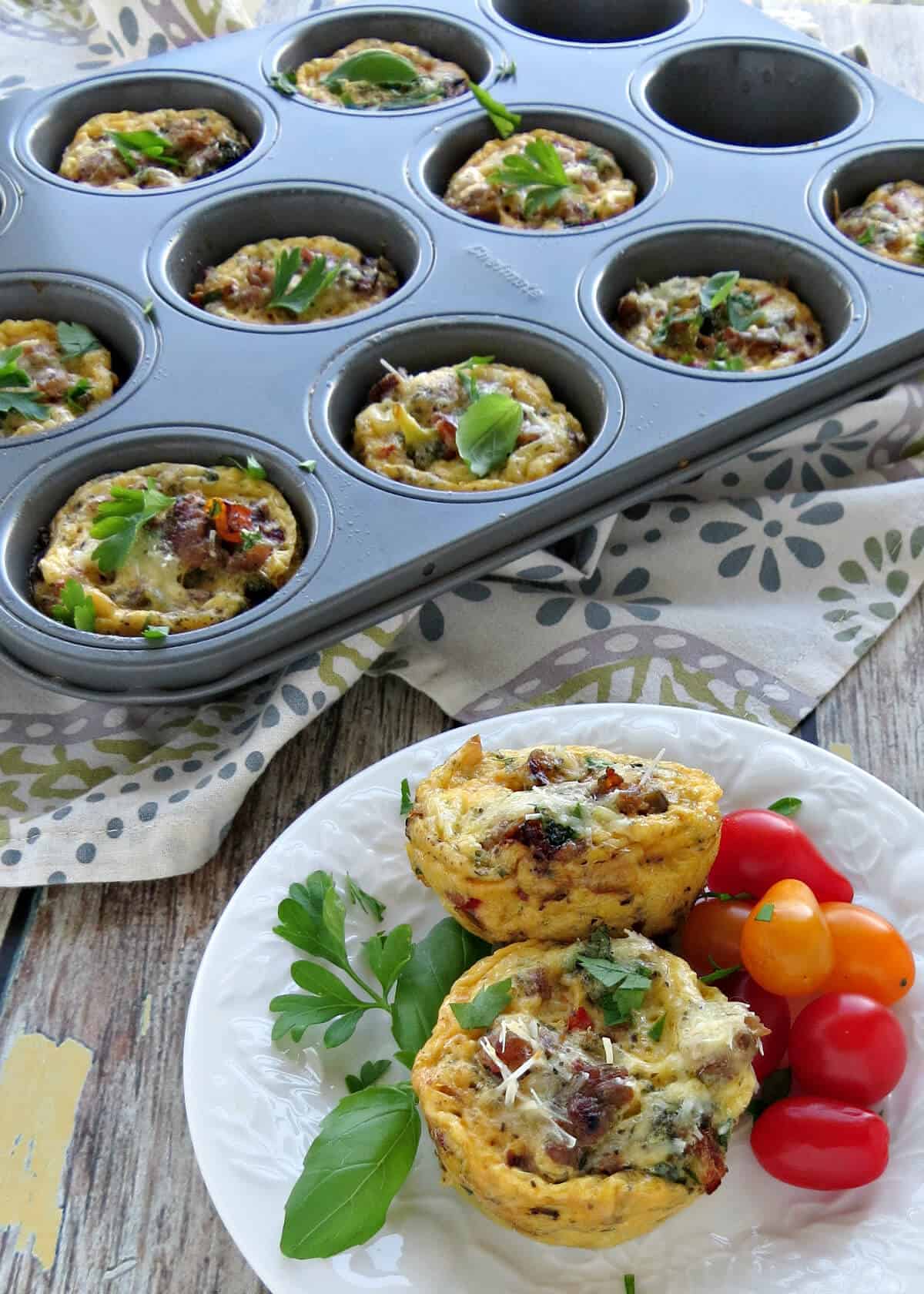 Filled with sausage and veggies, these hearty egg muffins have 7 grams of protein per serving — plus they're freezer-friendly, so you can reheat and eat this Easter brunch recipe for breakfast all week. (Trying to lose weight? Swap in lean chicken sausage.)
Get the recipe at 5 Minutes for Mom.
20. Keto Bagels
This recipe swaps out some of the traditional bagel ingredients for lower-carb alternatives like almond flower, cauliflower rice, and coconut flour. Each bagel contains just 8 grams of carbs, along with 4 grams of fiber and 9 grams of protein — it's an Easter brunch miracle!
Get the recipe at Openfit.
21. Easter Smoothie
How pretty are the pastel hues in this Easter smoothie recipe? Blended fruit mixed with non-dairy milk creates the separate color layers in this yummy, vegan beverage.
Get the recipe at Vegan Dollhouse.
22. Large Batch Non-Creamy Potato Salad
Who says potato salad needs to be drowning in mayo? This non-creamy version is made with just a few simple ingredients — potatoes, sweet onions, oil, vinegar, salt, and pepper. Reduce the oil by half to make it lighter in fat and calories.
Get the recipe at Sustain My Cooking Habit.
23. Sausage and Veggie Omelet Casserole
Combine sausage, bell peppers, white onion, eggs, and milk for this easy Easter brunch recipe. (If you're trying to lose weight, swap in lean chicken sausage.) It's a great way to use up your extra eggs, and perfect for meal prep, too.
Get the recipe at Meals and Mile Markers.
24. Almond Joy Baked Oatmeal
Based on the flavors in the classic Almond Joy candy bar, this baked oatmeal recipe is naturally sweetened and offers some fiber and complex carbs. Store it in the fridge for up to a week for a family-friendly snack.
Get the recipe at Radical Strength.
25. Sheet Pan Eggs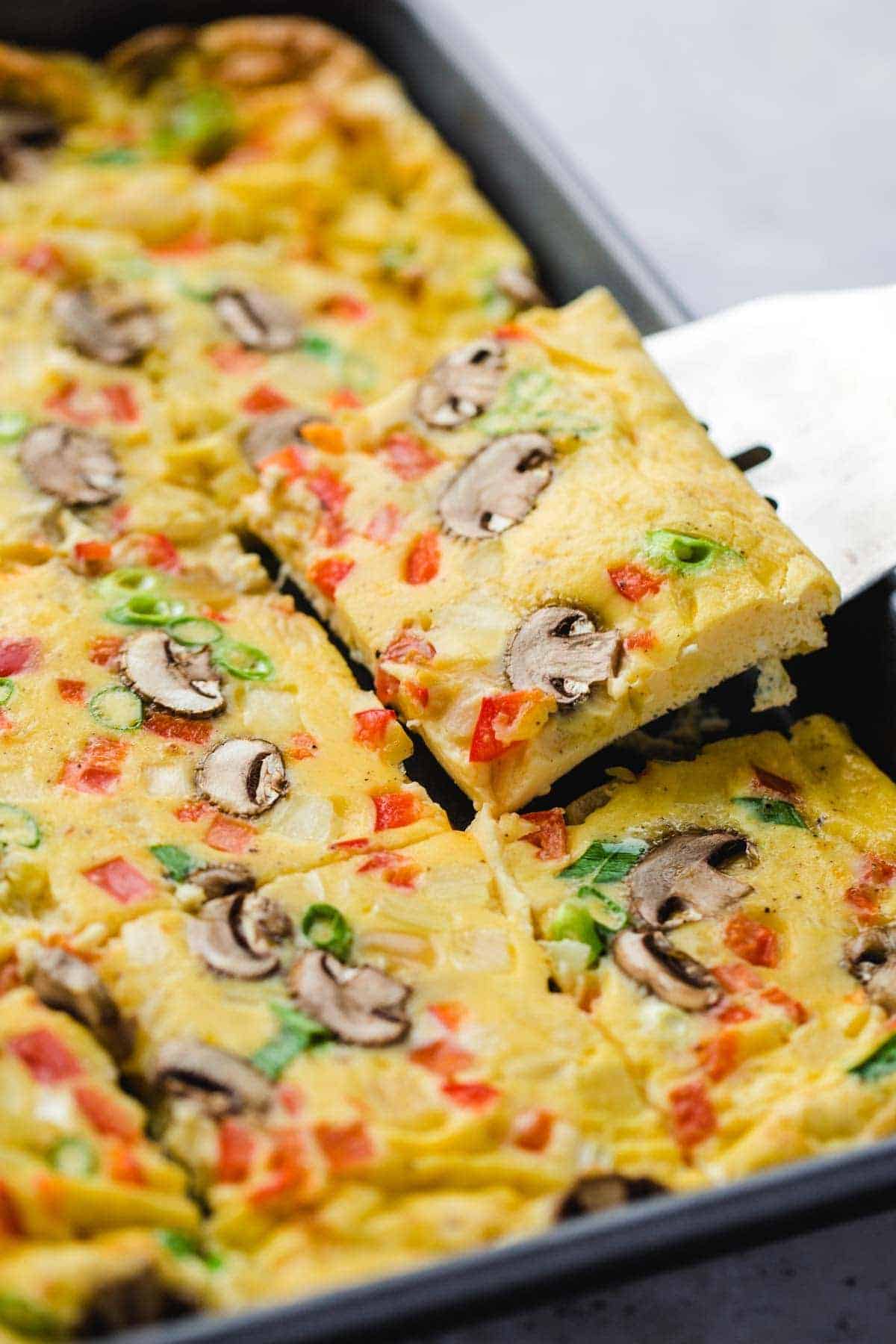 This sheet pan recipe pulls double duty as a healthy Easter brunch recipe and a great meal plan breakfast idea. Ready in half an hour, it's full of veggies and has 7 grams of protein and only 91 calories.
Get the recipe at Little Sunny Kitchen.