26 Healthier Easter Desserts to Satisfy Your Sweet Tooth
Dec 2, 2020
It's not easy to stick to your healthy eating goals on a holiday known for creme-filled chocolate eggs, marshmallow bunnies, jellybeans, and sweet bread. But it is possible to find healthier Easter desserts that aren't loaded with added sugar, syrups, and artificial flavors and colors. These easy Easter dessert recipes will make everyone in the family happy.
Find more healthy recipes on Openfit! Get started for free today.
1. Basic Banana Nice Cream
Looking for easy Easter desserts? How about a one-ingredient recipe? Frozen bananas are the only ingredient you need for this nice cream recipe, but you can get creative and blend in berries, cocoa powder, or nut butter for extra flavor.
Get the recipe at Openfit.
2. Mini Vegan Lemon Tarts
Besides being perfectly Instagram-ready, these vegan Easter desserts are made with healthier-for-you ingredients like almonds, pitted dates, and coconut milk.
Get the recipe at Nutriciously.
3. Easy Chocolate Hummus
There's a reason dessert hummus is trending — not only is it delicious, but it's also a healthier alternative to empty-calorie chocolate sauces. This chocolate hummus is ready in 15 minutes and has 125 calories and 4 grams of protein per serving.
Get the recipe at Recipes From a Pantry.
4. Vegan Sunny Side Up Cake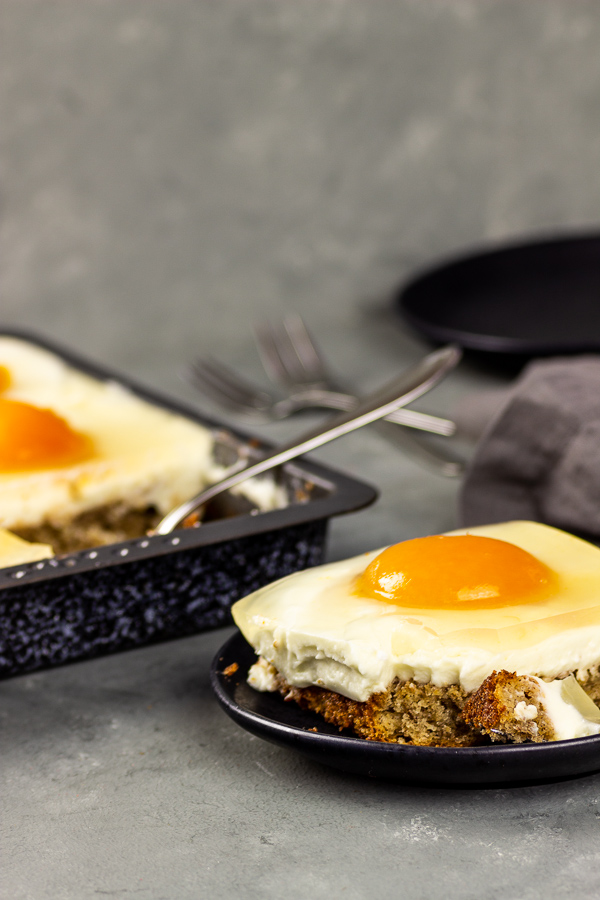 This adorable cake uses an apricot topping to create the "sunny side up" look, but don't be fooled — it's actually vegan, egg-free, and dairy-free.
Get the recipe at Ve Eat Cook Bake.
5. Paleo Strawberry Shortcake
Top these grain-free almond flour shortcakes with fresh berries and whipped cream for a paleo-friendly Easter dessert your whole family will love. Just go easy on the whipped cream to avoid racking up extra calories.
Get the recipe at Gluten-Free Palate.
6. Paleo Carrot Cake Bars
Carrot cake tends to have a "health halo" (hello, it has carrots!) but it's often loaded with sugar and calories. These grain-free carrot cake bars have all the yummy flavor of carrot cake, but they're sweetened with a bit of maple syrup.
Get the recipe at Gluten-Free Palate.
7. Copycat Peanut Butter Eggs
Looking for a healthier take on peanut butter eggs? This version is made with unsweetened peanut butter, dark chocolate, coconut flour, and a bit of honey or maple syrup.
Get the recipe at A Clean Bake.
8. Gluten-Free Lemon Blueberry Scones
Loaded with flavor thanks to almond meal, blueberries, and lemon zest, these rich and fluffy scones are the perfect dessert for your Easter brunch.
Get the recipe at Rhian's Recipes.
9. Paleo Snicker Stuffed Dates
If you're craving Easter candy, try these Snickers-inspired dates — they're made with just four ingredients and only require a 5-minute prep time. Keep in mind each stuffed date contains around 8 grams of sugar, so limit yourself to one or two.
Get the recipe at Cook at Home Mom.
10. Chocolate Rice Bubble Slice
Love Rice Krispie treats? You'll love this healthier version made with puffed rice, honey, and cocoa powder.
Get the recipe at Simplify, Create, Inspire.
11. Almond Berry Bliss Bars
Made with almond flour and mixed berries, these bliss bars are all the proof you need that plant-based desserts can be just as delish as their dairy- and egg-filled counterparts.
Get the recipe at Any Reason Vegans.
12. Easter Egg Smoothie Popsicles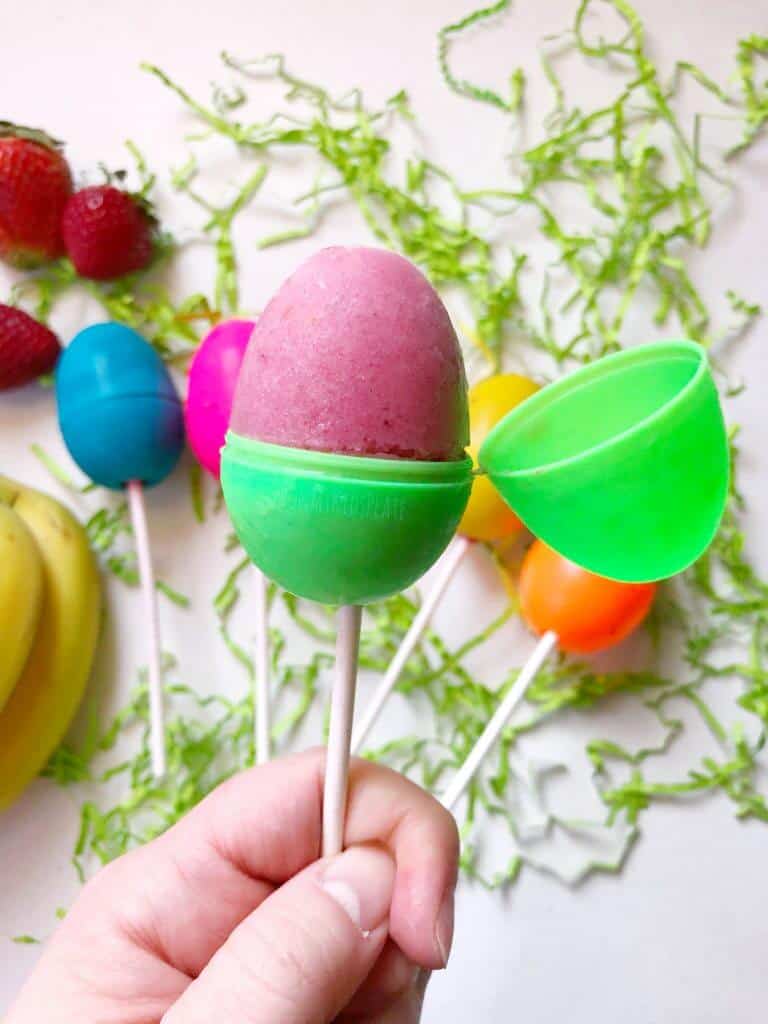 Looking for Easter desserts the whole family will enjoy? These healthy smoothie popsicles can be a cooldown treat after an intense egg hunt.
Get the recipe at On My Kid's Plate.
13. Gluten-Free Banana Bread Doughnuts
These gluten-free, egg-free, dairy-free banana bread donuts are the perfect post-brunch Easter dessert. The yummy nut butter glaze can add on a lot of extra sugar and saturated fat, so go easy with it (think drizzle, not glaze).
Get the recipe at Raia's Recipes.
14. Cinnamon Sweet Potato Breakfast Cookies
Make "cookies for breakfast" an Easter tradition with these plant-based treats made with sweet potatoes, almond flour, and cinnamon.
Get the recipe at Any Reason Vegans.
15. Salty Chocolate Pecan Bark
Want a sweet-and-salty Easter dessert option? This pecan bark is made with stevia-sweetened baking chips, coconut oil, and nuts, and sprinkled with Himalayan salt. (Stick to small portions, though, like you would with any chocolate bark.)
Get the recipe at Healthy With Jamie.
16. 3-Ingredient Raspberry Dessert
Three ingredients — frozen raspberries, unsweetened almond milk, and a zero-calories sweetener — are all you need to make this light-and-sweet whipped Easter dessert.
Get the recipe at Midlife Healthy Living.
17. Beetroot Brownies
Beetroot in brownies? You betcha. This healthier take on red velvet brownies uses beets and banana flour for a rosy dessert that's dairy-free and gluten-free. Skip the cream cheese glaze — it adds saturated fat and calories, and the brownies are delicious enough with it.
Get the recipe at Radical Strength.
18. Gluten-Free Hot Cross Buns
Tuck a few of these Irish favorites in the easter baskets for a healthy breakfast surprise. Without the gluten that is usually needed in sweet breads, these will be a delight for the whole family!
Get the recipe at Openfit.
19. Coconut Key Lime Pie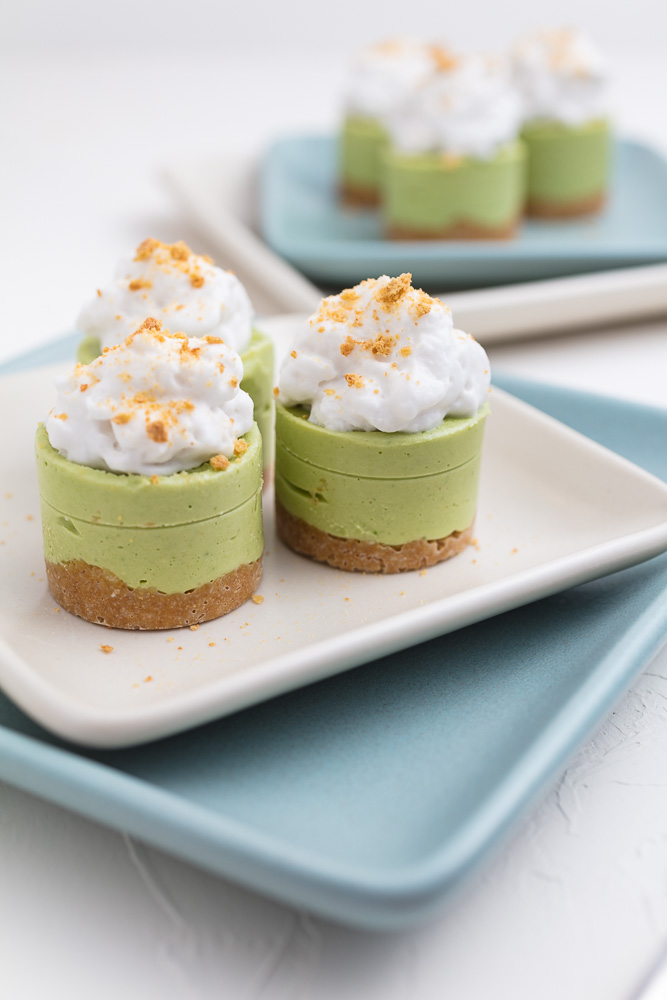 Get a head start on summer with these adorable mini key lime pies made with creamed coconut, lime juice, and date syrup.
Get the recipe at Vegan Dollhouse.
20. Turmeric Superfood Smoothie
Who says your Easter desserts can't be drinkable? Get the healthy benefits of turmeric with this refreshing mango lassi made with unsweetened coconut milk and reduced-fat plain Greek yogurt.
Get the recipe at Openfit.
21. Vegan Custard Tart
This yummy vegan dessert is made with plant-based milk, maple syrup, starch, turmeric, vanilla extract, and a vegan gingerbread crust. Top it with pomegranate seeds for an Easter dessert that's almost too pretty to eat.
Get the recipe at My Pure Plants.
22. Vegan Easter Eggs
Made with fruit juices and the plant-based gelatin agar, these festive Easter eggs are a great vegan alternative to jello.
Get the recipe at Instant Veg.
23. Banana Peanut Butter Oatmeal Cookies
Made with ripe bananas, quick oats, and peanut butter, these tasty Easter cookies add some nutrients to your dessert table. For even more flavor, mix in dried fruit or cocoa powder before baking.
Get the recipe at My Pure Plants.
24. Quick & Easy Overnight Chia Pudding
Get ahead of your Easter morning to-do list with this easy chia pudding recipe you can prep the night before. Made with fresh raspberries and strawberries, chia seeds, unsweetened coconut milk, and Greek yogurt, it provides 23 grams of protein per serving.
Get the recipe at Openfit.
25. Gluten Free Peanut Butter Cookies
Made with gluten-free oat flour and sweetened with maple syrup and coconut sugar, this yummy Easter dessert has just 143 calories and 7 grams of sugar per cookie.
Get the recipe at Openfit.
26. Chocolate Banana Pudding
This thick and creamy banana pudding is flavored with powdered PB — which has less fat and fewer calories than peanut butter — and chocolate-flavored Ladder Whey Protein.
Get the recipe at Openfit.