13 Delicious Slow Cooker Recipes — So You Can Eat Well and Still Have a Life
Apr 3, 2020
Slow cookers are one of the greatest inventions of our modern time. A pot that cooks for you while you sleep, go to work, take a spin class, run errands, and see friends, aka, have a life? Genius. They're great for cooking meat that's tender and juicy, or making large batches of dishes to meal prep for the week. These crockpot meal prep recipes will save you time, energy, and headaches, and best of all, they're all totally delicious!
For more healthy recipes sign up for Openfit for free today.
1. Slow Cooker Butternut Squash Soup
Butternut squash, sweet potatoes, carrots, and a cinnamon stick, (along with garlic, onion, nutmeg, salt and pepper) — it's winter coziness in a bowl. Cook on high in your slow cooker for three to four hours, or on low for six to seven hours, and enjoy your comforting cold weather staple.
Get the recipe at Little Sunny Kitchen.
2. Delicious Crock Pot Santa Fe Chicken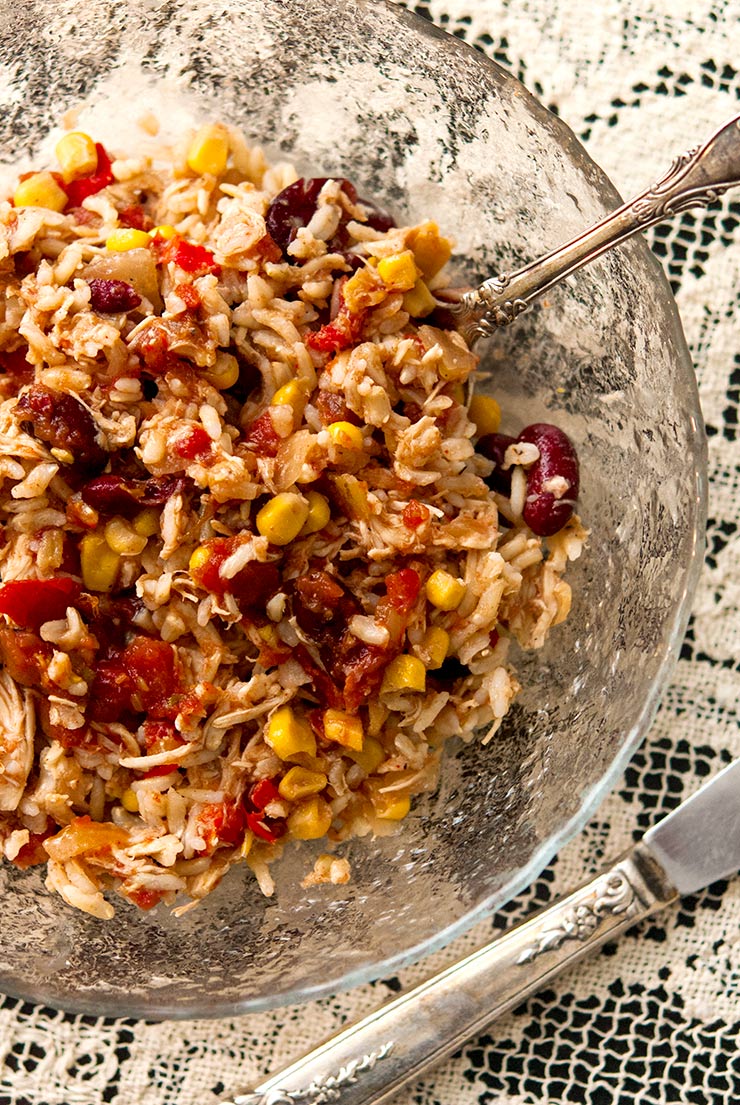 Looking for crockpot chicken meal prep ideas? This Santa Fe Chicken gives you all the zesty Tex-Mex flavor you love, with the nutrition from various vegetables and kidney beans you need. It serves six, and is also gluten-free and dairy-free.
Get the recipe at She Keeps a Lovely Home.
3. Slow Cooker Potato & Chickpea Tikka Masala
This potato and chickpea tikka masala is totally vegan and totally delicious. Potato, chickpeas, green peas, and bell peppers together with a tomato-based sauce, spices, and blended cashews to add a creamy texture. This dish is the perfect healthy comfort food this season.
Get the recipe at The Recipe Well.
4. Slow Cooker Lentil Soup
Prep this slow cooker lentil soup in the morning, go about your day, and enjoy your dinner warm and waiting for you at home. It's gluten-free, dairy-free, vegan, and full of healthy veggies like onions, carrots, celery, and kale sprinkled on top. A super healthy crockpot meal prep recipe you can enjoy all year long.
Get the recipe at Apples for CJ.
5. Crockpot Beef Stew
This hearty meal of juicy tender beef, bone broth, and veggies makes a hearty dinner. Slow cook it on low for six hours, or on high for four. Serve it up with a warm slice of whole-grain bread or brown rice and enjoy.
Get the recipe at Backyard Bohemian.
6. Slow Cooker Pork Roast with Apples
Pork roast can sometimes end up dry or tough, but when slow cooked in your crockpot, it'll become tender, juicy and flavorful. This recipe stuffs pork loin with apples, and then braises it with a tangy mustard and cider sauce for about four to six hours on high.
Get the recipe at a A Mindfull Mom.
7. Crockpot Spaghetti Squash and Meatballs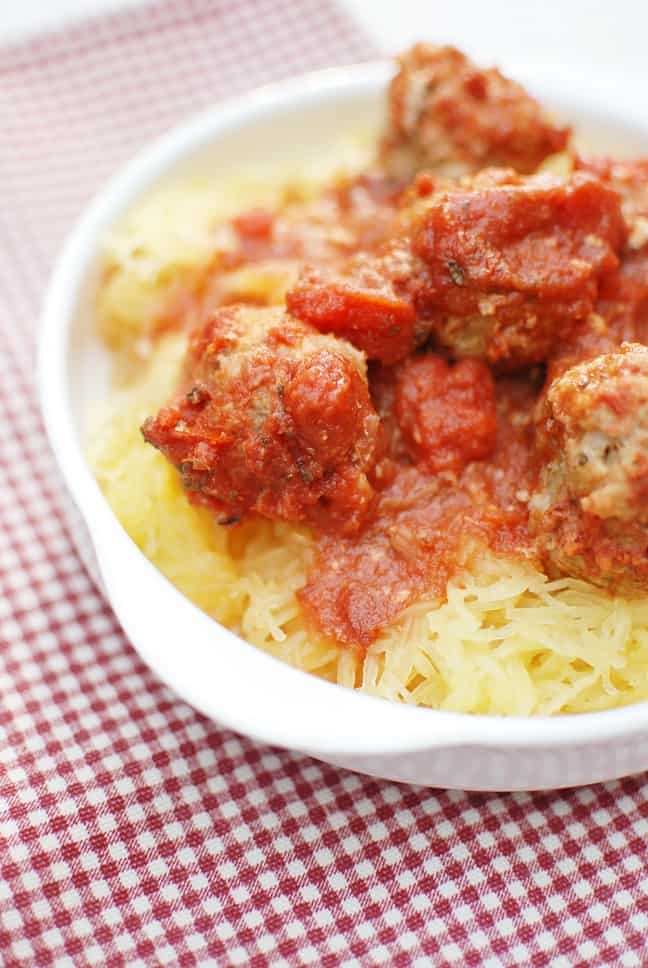 Delicious spaghetti and meatballs under 400 calories and does the cooking for you? Yes, please! With ground turkey meatballs, healthy spaghetti squash, garlic, and Italian seasoning, you'll have a big Italian feast waiting for you by the time work is over.
Get the recipe at Snacking in Sneakers.
8.Gingerbread Crockpot Oatmeal
This whole-grain and fiber-packed gingerbread oatmeal is just what you need on colder mornings when you find it's a little more difficult to get out of bed. It's got all the warm flavors you love like nutmeg, cinnamon, and maple syrup, and can be sprinkled with any of your favorite toppings.
Get the recipe at Bucket List Tummy.
9. Crock Pot White Chicken Chili
This gluten and dairy-free chicken chili has the perfect amount of kick, and a ton of flavor. The cannellini beans and shredded chicken give you that classic chili texture and the jalapeño adds a decent amount of spice. It's a great, healthy crockpot meal prep idea if you want something you can help yourself to all week long.
Get the recipe at The Saucy Fig.
10. Slow Cooker Lemon Garlic Chicken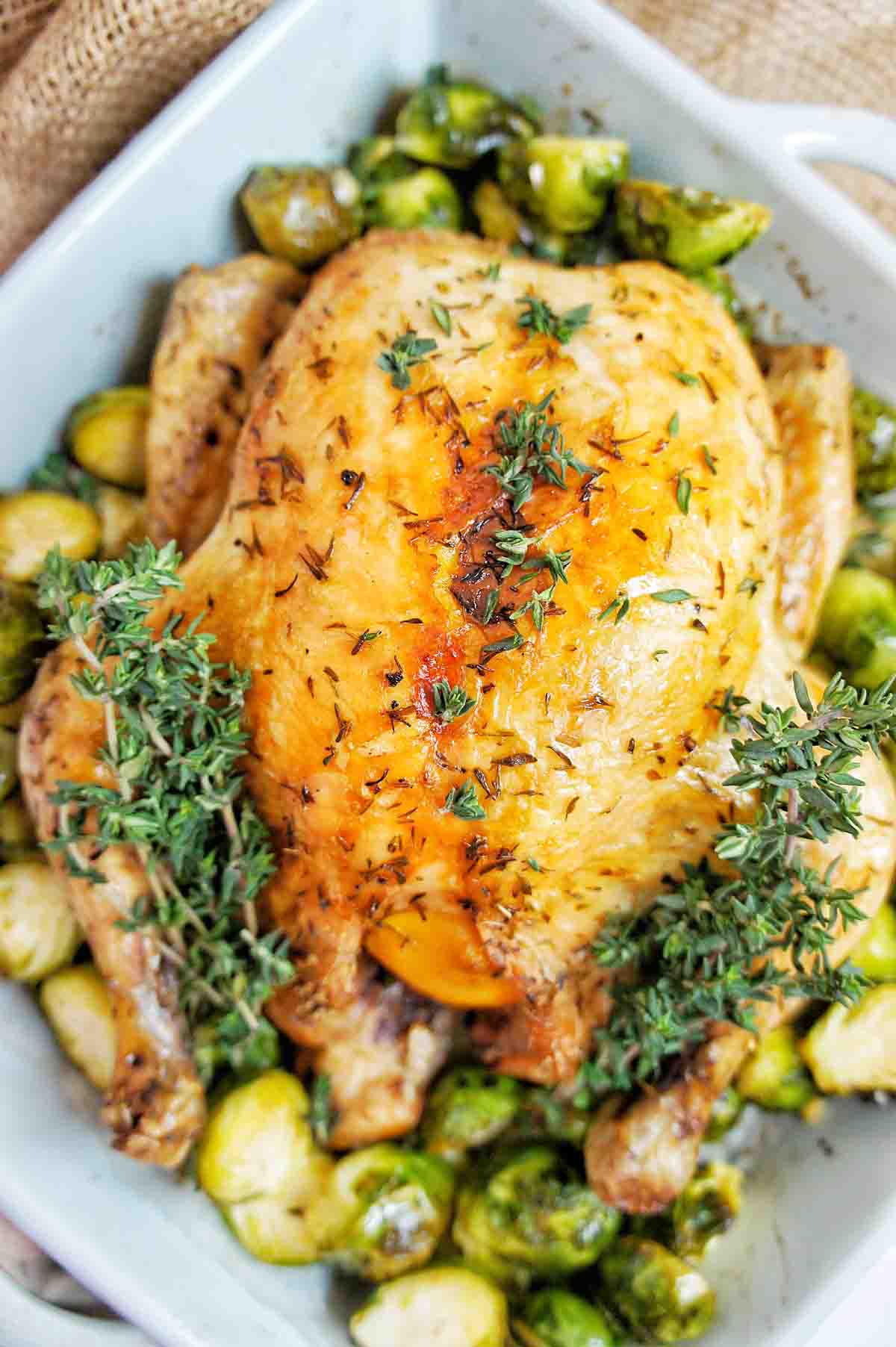 This crockpot chicken meal prep recipe is the perfect guide to making a whole slow cooked chicken on your own, which is great for a week of meals. You'll need a rack for the base of your crockpot to lift the chicken off the surface, but you can use aluminum foil if you don't have one. Then season it with some lemon juice, garlic, thyme and bay leaves and let the cooker handle the rest.
Get the recipe at Sweet Caramel Sunday.
11. Coconut Red Beans and Rice
This is a super tasty and flavorful Caribbean-inspired dish. Great as a side dish or as a meal on its own, simply scoop red beans, coconut milk, basmati rice, and a ton of spices and herbs into your slow cooker and let them simmer for six to eight hours. Make a huge batch and leave the rest in the fridge for a week's worth of rice and beans. This recipe is high in saturated fat because of the coconut milk so keep that in mind when trying to balance with other foods you're eating throughout the day.
Get the recipe at The Food Blog.
12. Slow Cooker Cactus Pear Chicken with Broccoli Rabe
Cactus pear juice, orange juice, lime juice, agave, garlic, oregano, and chili powder is poured on top of chicken and then slow cooked for three hours before adding broccolini for another hour. The result is a delicious chicken meal with 27 grams of protein.
Get the recipe at Proportional Plate.
13. Slow Cooker Pumpkin Steel Cut Oats
For crockpot meal prep recipes you can make the night before, these pumpkin steel cut oats are going to be a delight to wake up to. Simple, easy, and gluten free, you only need a few ingredients like pumpkin puree, oats, ginger, and cinnamon to make this breakfast treat.
Get the recipe at Fearless Dining.