How to Make Chickpea Pasta Your New Favorite Comfort Food
Jun 29, 2020
If you love pasta, you're probably skeptical that any of the healthier pasta alternatives at the grocery store could possibly replace the original. But chickpea pasta might change your mind.
Made from chickpea flour, chickpea pasta has a similar taste and "al dente" texture to regular pasta, but without all the refined carbs — so you can indulge in your favorite Italian recipes without sabotaging your weight loss goals.
Here's what you need to know about chickpea pasta and how to cook it perfectly.
Find more healthy recipe ideas on Openfit! Get started for free today.
Is Chickpea Pasta Healthy?
Yes — but how you prepare it is key.
Chickpea pasta is Sugar Free 3-approved and doesn't contain any added sugars to mess with your healthy eating goals. It's also naturally gluten-free and provides more protein than regular refined pasta. Banza Chickpea Penne, for example, contains 13 grams of plant-based protein per 2-ounce serving.
However, that same serving also contains 190 calories — so you still need to watch your portion sizes. And if you cover your chickpea pasta with a heavy cream sauce or sugary store-bought marinara, you'll add even more calories, along with saturated fat or sugar. Opt for homemade tomato sauce instead, or toss your chickpea pasta with a bit of olive oil and garlic.
How to Cook Chickpea Pasta Perfectly
Exact cooking times can vary from brand to brand, so the instructions on the box are going to be your best friend. As you're cooking, follow these tips to ensure the best possible outcome:
In order to enhance your chickpea pasta's flavor, add a pinch of sea salt to your cooking water.
Don't add oil to the water. It'll make it harder for the sauce to cling to the pasta.
To get that classic "al dente" texture, start taste-testing the noodles a few minutes before you hit the recommended boiling time. This will help you avoid mushy noodles (which are the worst).
3 Chickpea Recipes To Try
Ready to give chickpea pasta a try? Here are three easy, delicious recipes to get you started.
1. Curry Mac & Cheese
For a healthier take on the classic comfort food, try this rich and creamy vegan version made with Banza Chickpea Pasta Shells, carrot puree, nutritional yeast, and spices.
Get the recipe at Strength & Sunshine.
2. Cauliflower Walnut Pasta Bolognese
Combine chickpea pasta with a cauliflower-and-walnut "meat" blend for a delicious vegan bolognese the whole family will love. Even better, this easy chickpea pasta recipe can be ready in under 40 minutes.
Get the recipe at Bad to the Bowl.
3. Easy Vegan Pasta Salad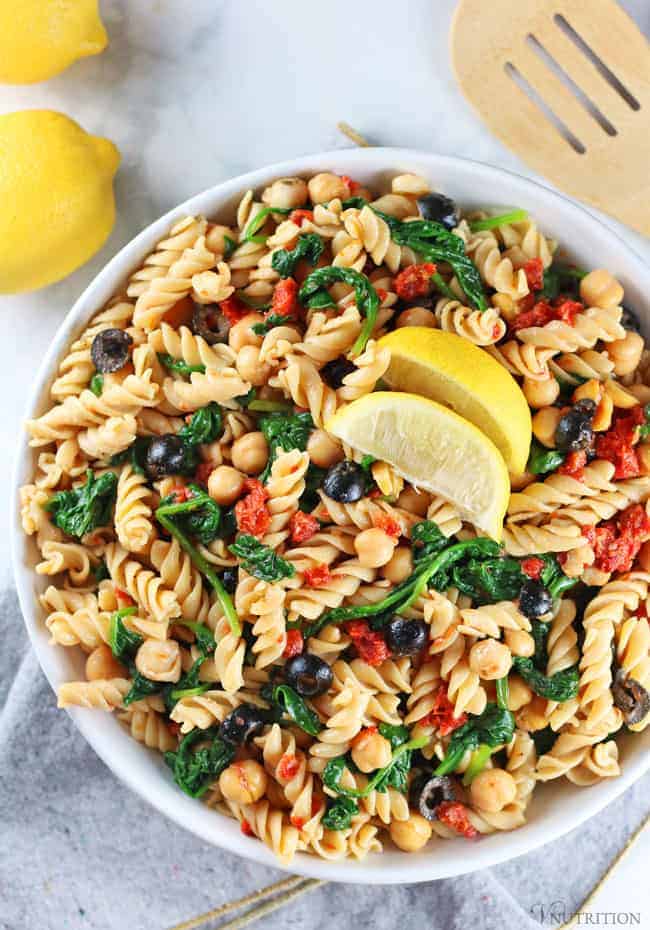 Looking for a quick and healthy dish to take to a backyard BBQ or potluck dinner? This vibrant vegan pasta salad can be ready in just 20 minutes or less and provides fiber, protein, and plenty of veggies.
Get the recipe at V Nutrition.
Where to Buy Chickpea Pasta
You can find lots of chickpea pasta products in grocery stores and online. Check your local supermarket, or order one of these tasty options: