6 Best Dutch Ovens of 2020

This article may contain affiliate links. We collect a share of sales from qualifying purchases.
Dutch ovens have been used in cooking for centuries. The best Dutch ovens are typically made from enameled cast iron and feature thick walls and a tight-fitting lid to ensure an even distribution of heat and to lock in moisture for meats, stews, soups, sourdough breads, and more.
If you're thinking of investing in this kitchen staple, you're in for a treat — Dutch ovens can make browning, baking, and braising easier. But you're also in for a tough decision, because you'll find a ton of options on the market at all different price points. So how can you find the best dutch oven?
Looking for healthy tips to help you stay on track? Find nutrition plans on Openfit! Sign up for free today. 
What to Look for When Buying a Dutch Oven
When you're shopping for a Dutch oven, there are a few important factors to take into consideration.
Size
The average Dutch ovens hold around 5 to 7 quarts, but you'll find sizes all the way up to 13 quarts. So what size do you need? A good rule of thumb is at least one quart per family member. If you're cooking for one, you can probably get away with a mini-sized Dutch oven. If you have a family to feed, you'll probably need a 4-quart oven or larger. And if you're planning on baking bread, keep in mind you'll need space for a rise.
Shape
You'll find round and oval Dutch ovens. For mostly stovetop cooking, go with a round Dutch oven — it'll fit on the stove better and make sautéing easier. Round ovens are also said to give more even heating. For baking inside the oven, both shapes work well, but oval Dutch ovens can accommodate longer cuts of meat that might fit awkwardly in a round oven. Think about how you'll use your Dutch oven most often and go from there.
Price
You can find Dutch ovens at several price points, from cast iron models under $50 to high-end Dutch ovens in the several-hundred-dollar range. Some of the price difference is due to brand names, but more expensive models may also have better lid fit and higher-quality materials. A heavy duty, enameled cast iron Dutch oven is going to cost you a lot more than cast aluminum.
Which Dutch Oven Is the Best?
If you're overwhelmed by options, start here — it's hard to go wrong with these Dutch ovens.
1. Le Creuset Cast-Iron Signature Round Dutch Oven
This cult classic is one of the best Dutch ovens on the market. Though it's definitely a splurge, there's a reason Le Creuset is so coveted — it's sand-cast, polished, and finished by hand. The oven is then sprayed with two coats of enamel and fired twice, creating a gorgeous finish and a piece of quality cookware that'll cook your soups, stews, breads, and sauces perfectly.
Get it at Amazon.
2. Staub Cast-Iron 6-Quart Wide Cocotte
This Dutch oven is on the higher end of the price range, but it's worth every penny if you're looking to invest in cookware that'll last for generations. Made in France, this heavyweight enameled cast iron's coating requires no additional seasoning. The black matte interior enamel contains traces of quartz, making it especially heat resistant with a rougher surface for better browning.
Get it at Amazon.
3. Tramontina Gourmet 6.5-Quart Enameled Cast Iron
This is one of the best Dutch ovens on a budget, and it works great for making sourdough bread with an even crust. Made with heavy-gauge cast iron and easy-to-clean porcelain enamel, it's oven-safe up to 450 degrees and comes with a lifetime warranty — all in a double-digit price range.
Get it at Amazon.
4. Calphalon Premier Space Saving Stainless Steel 8.5-Quart Dutch Oven
Looking for a Dutch oven that will save you space and money? This stainless steel option has a flat tempered-glass lid that makes it easy to stack, saving you cabinet space. The triple-layer aluminum core provides even heating, and it's dishwasher-safe and oven-safe up to 450 degrees.
Get it on Amazon.
5. Milo Classic Dutch Oven
Milo is a newer brand with many of the trappings of more expensive Dutch ovens, but at an affordable price point. This 5.5-quart Dutch oven is made from enameled cast iron that holds in heat well and is oven-safe up to 500 degrees. Plus, its stylish design is practically begging to be Instagrammed.
Get it at Cook with Milo.
6. GSI Outdoors Hard Anodized Dutch Oven
Going camping but don't want to leave your Dutch oven recipes behind? This highly conductive, reasonably priced cast aluminum Dutch oven comes in 10-inch, 12-inch, and 14 inch sizes — perfect for cooking stews, soups, and even eggs or biscuits over the campfire.
Get it at Amazon.
4 Dutch Oven Recipes to Try
Put your new Dutch oven to the test with these tasty recipes.
1. Braised Turmeric Chicken with Apricots and Olives

This Mediterranean-inspired dish incorporates olive oil, lemon, fresh herbs, flavorful chicken, kalamata olives, and dried apricots for a savory meal that's gluten free and Paleo-friendly.
Get the recipe at A Clean Bake.
2. Hearty Vegetarian Cabbage Soup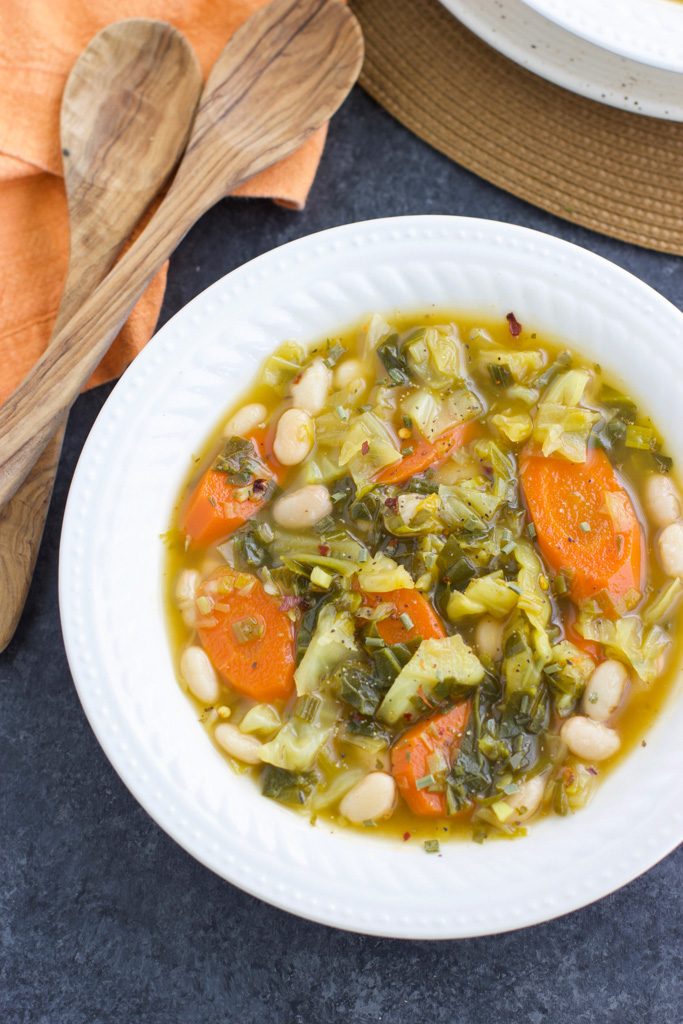 This hearty cabbage soup is loaded with veggies and super-easy to make in a Dutch oven. Even better, it's vegan and gluten-free and only has 125 calories.
Get the recipe at Stacey Homemaker.
3. Pork and Sauerkraut
This easy recipe is made with simple ingredients like boneless pork chops, sauerkraut, potatoes, apples, and caraway seeds. Baked in a Dutch oven for juicy, tender pork (and easy cleanup!), it's a perfect meal for the whole family. To make this meal even more nutritious, replace half of the potatoes with other root vegetables (like carrots, beets, or radishes) for an added variety of nutrients and less starchy veggies!
Get the recipe at Cook at Home Mom.
4. Oven Braised Chicken Cacciatore With Rosemary
Braised in a rich tomato sauce flavored with red wine, mushrooms, and bell peppers, this Dutch oven chicken recipe is elegant and absolutely delicious. With less than 500 calories per serving — plus 64 grams of protein — it's the perfect date-night-at-home recipe.
Get the recipe at Jeanette's Healthy Living.