15 Healthy Recipes That Are Perfect for Christmas Morning
Oct 21, 2021
With cooler temps and an abundance of available treats — candy, and pie, and cookies, oh my! — it can be extra challenging to squeeze in healthy, nutritious meals. Breakfast is an excellent opportunity to polish off some vegetables, fruit, and/or healthy whole grains before your health-forwrad intentions slip away from you. And Christmas morning breakfast doesn't have to be an exception.
We've rounded up plenty of delicious and healthy Christmas breakfast recipes to start this festive holiday off right!
Get access to hundreds of recipes that are as delicious as they are healthy with Openfit's nutrition plan! Try the app here for free.
Sweet Christmas Morning Recipes
If you want to give your sweet tooth a head start before all the Christmas cookies and pies to come, then these are the breakfast recipes for you. But unlike many desserts, they'll provide you with some vital nutrients — like protein and fiber — to get you through the action-packed day.
1. Cottage Cheese Protein Pancakes
Power up for a marathon of opening presents and singing carols with these protein packed pancakes. Thanks to the cottage cheese, you'll rack up 18.5 grams of protein in this sweet breakfast. And, you can still stick to the colors of the season by mixing in some strawberries
Get the recipe from Openfit.
2. Paleo Gingerbread Pancakes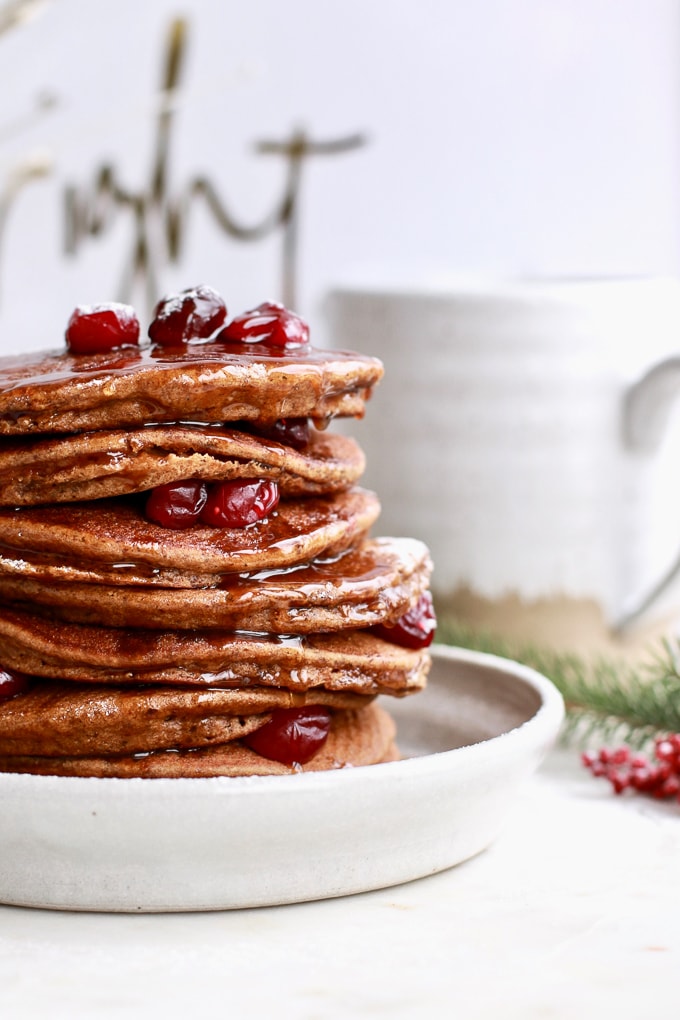 Nothing says Christmas quite like gingerbread, but gingerbread cookies may not have you feeling so hot if you eat a bunch for breakfast. These paleo pancakes, on the other hand, have all the distinct flavor of gingerbread — thanks to molasses, ginger, cinnamon, and nutmeg— but they provide a bit more nutrients than cookies.
Get the recipe at Nutrition in the Kitch.
3. Cranberry Pecan Oatmeal Cups
If your Christmas day involves long hours in the kitchen to prep dinner, then you probably don't want to spend a ton of time whipping up a healthy breakfast. Instead, you can whip up these cranberry pecan baked oatmeal cups ahead of time and have something quick to enjoy before that cooking spree.
Get the recipe at Openfit.
4. Eggnog Overnight Oats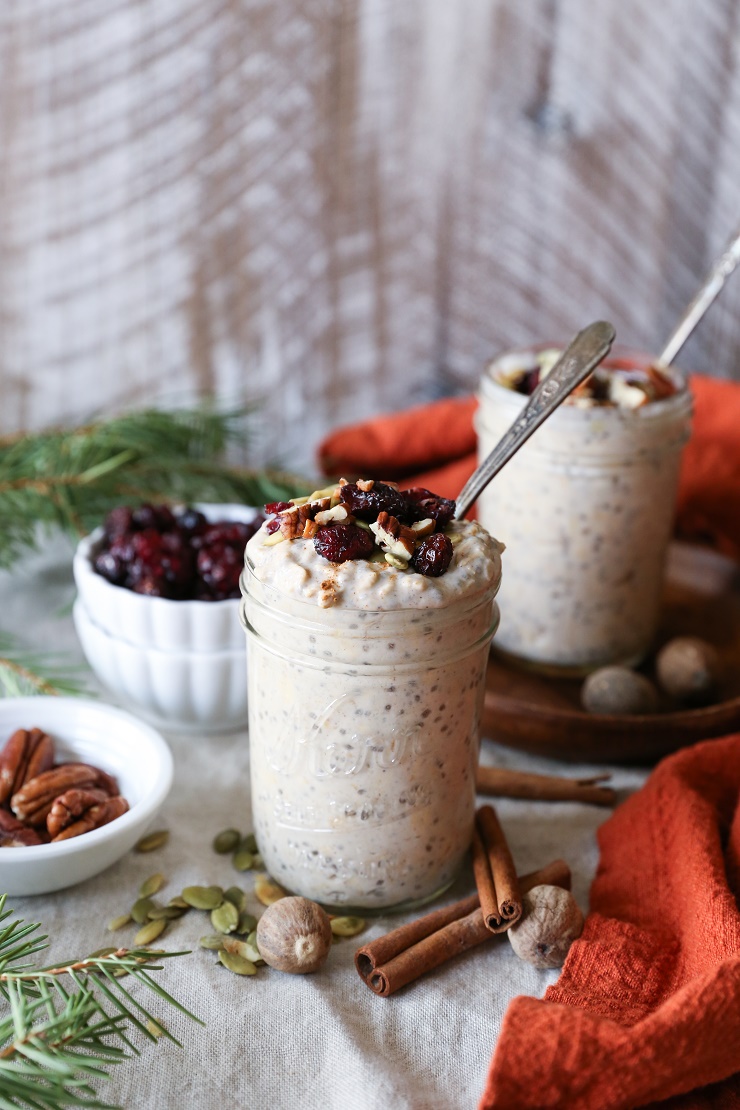 Traditional eggnog? Not so healthy. But when you make it at home and add it to rolled oats with chia seeds, cranberries, pecans, and pumpkin seeds (or any combination of toppings you have in your pantry), you'll have an easy make-ahead Christmas morning breakfast that checks off all the festive boxes.
Get the recipe at The Roasted Root.
5. Sweet Potato Waffles with Pomegranate Syrup
With whole wheat flour and plenty of pureed sweet potato, these waffles will keep you off the naughty list — at least when it comes to your diet. Top them with a honey-sweetened pomegranate syrup and holiday hued pomegranate seeds for added crunch and nutrients!
Get the recipe at Eating Richly.
6. Raspberry Chia Seed Parfaits
This simple recipe layers raspberry puree (made with maple syrup and frozen raspberries) with a lightly-sweetened and spiced chia seed pudding. Top it with chopped Granny smith apples and pomegranate seeds and you've got yourself a merry little breakfast — one with an impressive 13 grams of fiber!
Get the recipe at Begin Within Nutrition.
Savory Christmas Morning Recipes
If you wake up already craving that delicious Christmas dinner, these deliciously savory options will get you ready for your feast at night. It's like dynamic stretching — but for your taste buds!
7. Breakfast Pizza
Need a fun and creative Christmas breakfast idea? Top a whole wheat or cauliflower crust with some sauce, cheese, and loads of veggies, and you're left with a healthy and satisfying — albeit untraditional — Christmas morning breakfast.
Get the recipe at Openfit.
8. Sun Dried Tomato and Pesto Quiche
This lightened up quiche is perfect for a lazy Christmas morning with guests. Start with a store-bought whole-wheat pastry crust, whip up the egg filling (made without heavy cream like traditional quiche recipes), bake it, and store it in the fridge overnight. Then, all you have to do is reheat it when your guests make their way to the kitchen!
Get the recipe at Well Plated.
9. Healthy Breakfast Burritos
Want a crowd-pleasing way to sneak in some veggies early in the AM? Start with a whole-grain wrap, spread a layer of mashed avocado, toss in egg whites or whole scrambled eggs, fill in the gaps with plenty of veggies, and you're well on your way to a satisfying, balanced breakfast.
Get the recipe at Openfit.
Christmas Breakfast Casseroles
Casseroles might just be the easiest breakfast for crowd. If you're hosting a group of family or friends on Christmas morning, look no further than these healthier casserole recipes. You can sneak so many healthy ingredients into the mix, and no one will be the wiser!
10. Egg and Veggie Casserole
This Whole30-approved Christmas breakfast casserole includes loads of veggies in the form of eggplant, spinach, avocado, broccoli, tomatoes, and onion. And as an added bonus, this casserole looks extra festive from the green spinach and bright red tomatoes. Because sometimes looks are important!
Get the recipe at One Clever Chef.
11. Baked Pumpkin Oatmeal with Golden Cashew Cream
For an easy Christmas brunch recipe, you'll want to add this make-ahead, gluten-free, oat-based casserole to your repertoire. What is golden cashew cream, you may ask? It's a lightly sweetened cashew milk mixture that gets its golden hue from a hefty dose of ground turmeric. To stay on the "nice" list, use a moderate amount to keep the calories light — remember that a little can go a long way.
Get the recipe at spabettie.
12. Apple French Toast Bake
This Christmas morning casserole sticks to the basics without skimping on holiday flavor, thanks to the apples, cinnamon, and brown sugar. Compared to other French toast bakes, this one is healthier by virtue of one easy swap: whole grain bread. It will also ensure that you get some fruit into your day.
Get the recipe at Minimalist Baker.
Smoothies for Christmas Morning
Smoothies may not be the most traditional Christmas morning breakfast, but they're a great way to quickly get in a bunch of nutrients. They're especially great if you're traveling Christmas morning, or if you live in a warmer climate.
13. Beet Berry Superfood Smoothie
This bright red smoothie gets it's festive coloring from strawberries, cherries, and the secret ingredient — beet root powder! Thanks to the sweet fruit, it doesn't require any added sweeteners. It also packs in 28 grams of protein from creamy Greek yogurt.
Get the recipe from Openfit.
14. Creamy Matcha Smoothie
This super nutritious smoothie gets its verdant color from matcha powder and spinach. It also sneaks in avocado and hemp seeds for some healthy omega-3 fatty acids. Top it with some goji berries for an extra festive touch!
Get the recipe at Natalie's Health.
15. Turmeric Superfood Smoothie Recipe
OK, so this smoothie recipe doesn't boast a Christmas color, but it can still make an excellent holiday breakfast. Grab some frozen mango cubes from the store to whip up this ginger turmeric drink that will power you through the day with 18 grams of protein. Perfect for an on-the-go meal!
Get the recipe from Openfit.